Come with us on another Kyushu road trip. Join us we visit two of the most popular Kyushu pottery villages: Arita and Karatsu. See unique footage of master pottery craftsmen at work. Learn a little more about Kyushu ceramics. Take an intimate peek inside a potter's workshop.
We took this 2-day road trip in September 2018. This is the real Japan. Not Disneyland, not the mega-cities. It's a chance to understand how modern Japan links hands with its history and traditions.
Read on to get an idea of what a Kyushu road trip is all about. Contact us if you want help planning your own self-drive adventure.
Let's go …
First stop was the impressive Karatsu Castle. It has stood glaring down at the local inhabitants for more than 400 years. These days it is far more benign. It has beautiful blooms of azalea, cherry blossom and wisteria in season. You can see samurai armour and local ceramics on display. Kumamoto Castle, usually the top dog of Kyushu castles, is closed this year for earthquake repairs. It's nice I think for Karatsu Castle to get its chance to shine.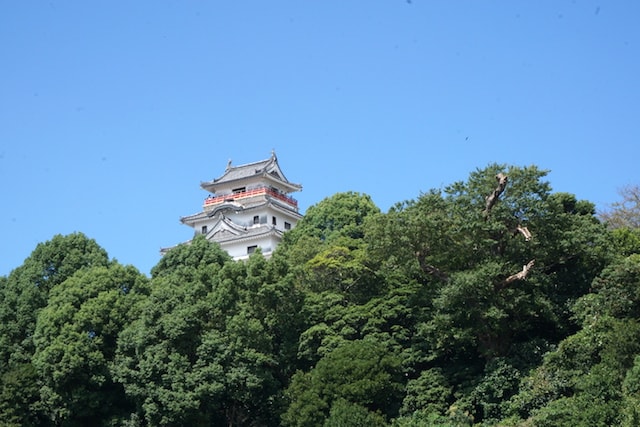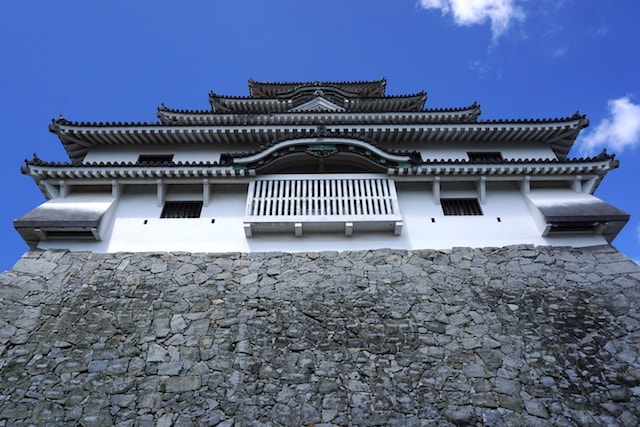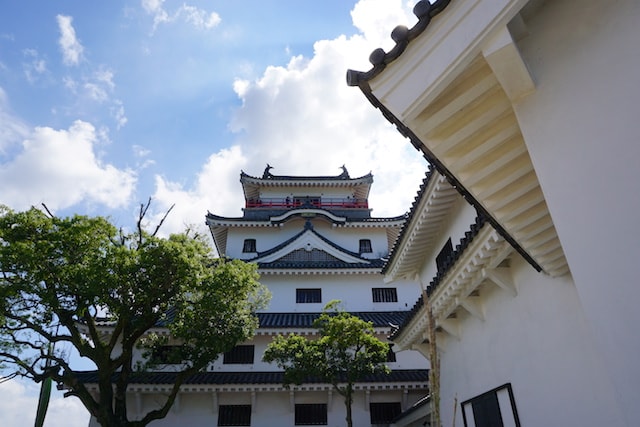 Next we popped into the storage area for the huge floats of Karatsu Kunchi. This is Karatsu's most famous festival with up to half a million visitors each year. If you like crowds and can come in November contact us to arrange a visit. I was excited to read that the floats are pulled through the streets by teams of bears. Actually though, it's teams of "bearers".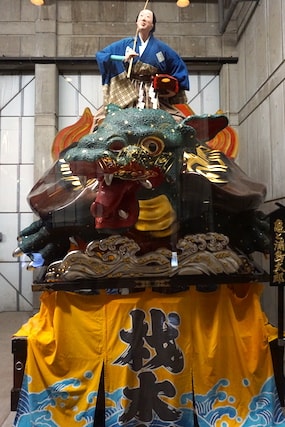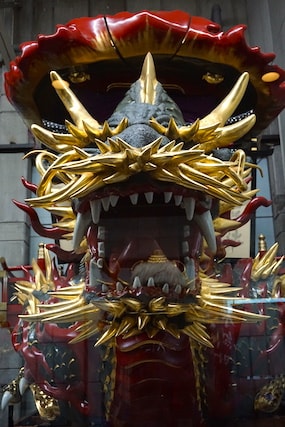 Across the street from the Kunchi display is the town Shrine. Like many things in Japan it is extraordinarily old. Karatsu Shrine was built in the year 755. Do as the Japanese do and feel free to cleanse yourself when you enter a shrine.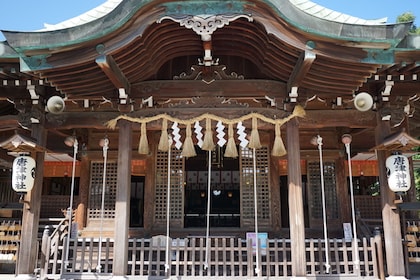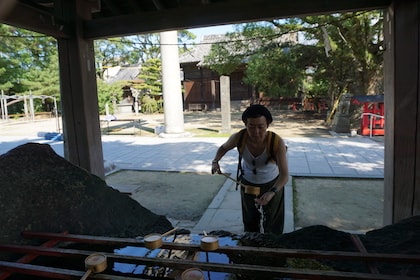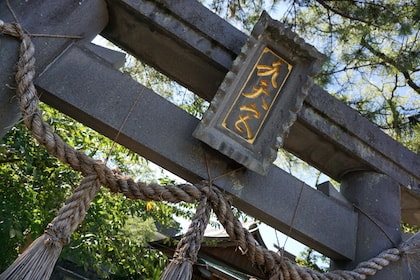 It was a hot sunny day so took a break in an oasis of calm. It was a deeply tasteful teashop-cum-gallery. Everything was served in typical Karatsu ware (Karatsu pottery). You can see it in the photo below. Karatsu pottery is most commonly an earthy brown and often hand-made. Simple bold strokes or rough symmetrical patterns are favoured for decoration. Karatsu pottery is very popular for use in the Japanese tea ceremony. Just like in a tea ceremony we chose to have matcha (a kind of green tea). Although matcha can be quite bitter it's a very refreshing drink. As it almost always does our matcha came as a set with a Japanese sweet. The bitter and sweet complement perfectly. Try it when you visit Japan.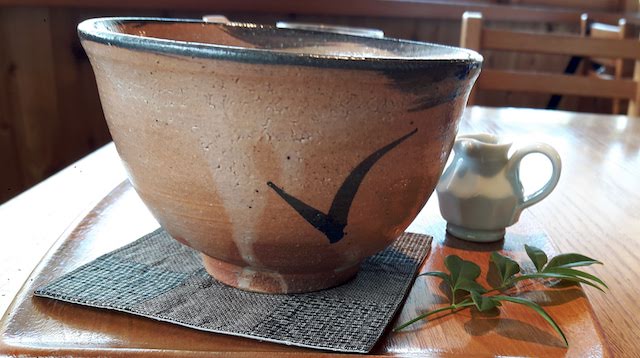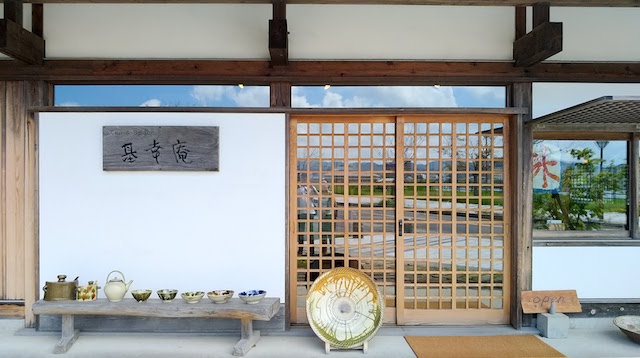 We reached the observatory just in time for sunset. It's worth a visit to get a bird's eye view of Karatsu's magnificent pine forest and its million trees. The Japanese love lists and the forest makes in onto two. It's one of the "top 3 pine forests in Japan" as well as one of the "100 most beautiful places in Japan." It nestles between the town and the beach and is a popular place for walking or cycling.

We can never resist an onsen (hot spring bath) so found one and had a relaxing soak. There's nothing better to get you ready for bed and it was time to check-in. On our Oita and Kumamoto road trip we paid $175 per person for our accommodation. Here in Karatsu Moo found a room in a homestay for $60. We arrived late and found the other guests preparing dinner. Everybody had brought something and were cooking together. Our timing was perfect. We just sat down and ate and then popped to the convenience store to buy some dessert. Our hosts were kind and knowledgeable. After dinner they shared their expertise about Karatsu pottery as well as their bottles of shochu (Japanese whisky) and saké. I nosed around the house snapping photos of their lovely pottery collection (see below). They even had ceramic light shades!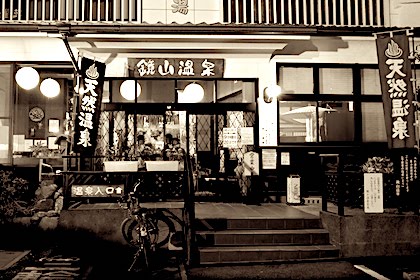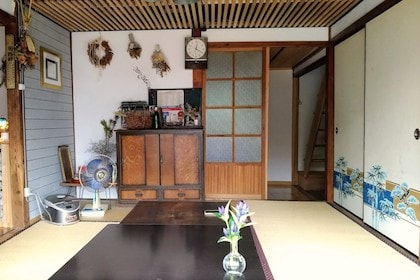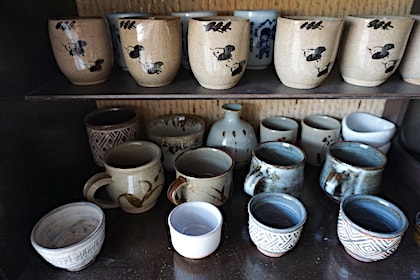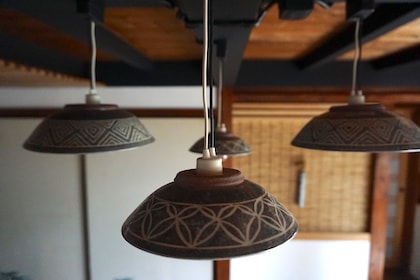 Just down the street from our homestay was one of Karatsu's oldest and finest ceramic galleries. It was full of glorious pieces. Unless you want to leave penniless you'd better have a strong will when browsing around. We were shown into a room displaying the best pieces and left alone. Left alone surrounded by items worth thousands of dollars! Only in Japan. The most expensive works were by the Master and more affordable ones by his apprentices. I have to admit, I couldn't really distinguish between the $10,000 pieces and those costing less than a hundred.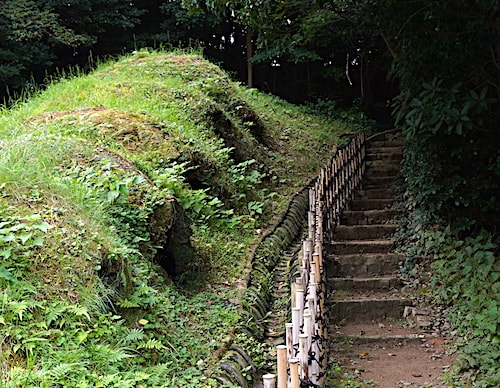 We dragged ourselves away from the magnificent pieces and drove to a local kiln. Karatsu has been producing pottery for 400 years and has 70 active kilns. They are mostly small-scale family operations. We didn't have an appointment. We just turned up, wandered around, photographed and videoed. Nobody seemed to mind. In fact we were even offered matcha tea and a snack. As you might expect it was served on exquisite in-house ceramics (see photo below). I guess by now you are starting to get a feel for how Karatsu pottery looks. The kiln I photographed below is the one that produced those two bowls. Kilns in Karatsu are distinguished by mostly being wood-fired instead of gas or electric. The flames licking around mean that each piece in the firing turns out slightly different from the others. You really will be getting something unique.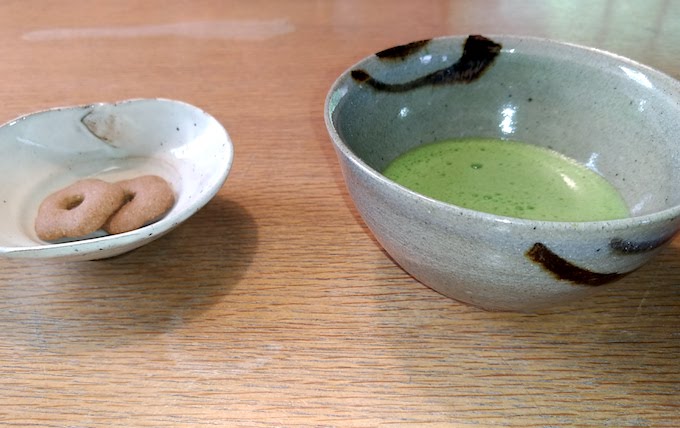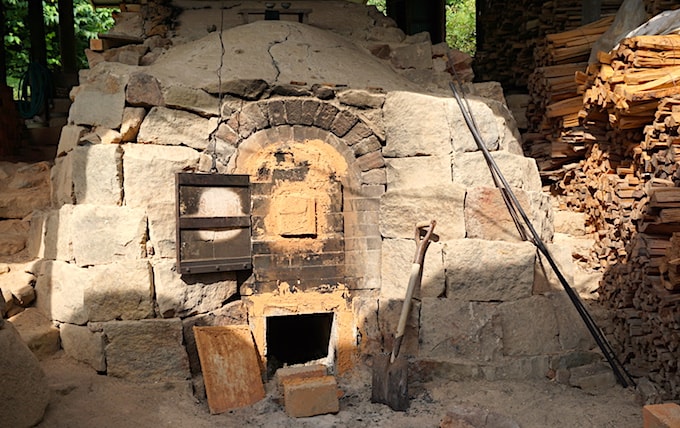 As we strolled around (unaccompanied and unbothered) we could see that it was a real family industry. Brothers and sons sat quietly working cleaning, brushing or painting. We had a chat with the man in the video below. Turns out he is a 14th generation potter. Think about that. An unbroken chain from father-to-son for generation after generation. Whatever turmoil may have swirled around them from the 1600's to the present day, still they made their pots. Take a look at the video (it's just 30 seconds). It shows a craftsman at utter ease with his craft working with methods unchanged from his forefathers before him. Oh, by the way, the music you can hear isn't dubbed by me. It was playing in his workshop. Seems he spends his days listening to beautiful music and making beautiful things.
Watching people work always makes me hungry. We set the SatNav to Yobuko; it's a tiny fishing port looking out onto the Sea of Japan. It was a nice drive along country roads and we were looking forward to the famed Yobuko squid. We ordered strategically and had just one portion of squid. You eat the first bit raw and any leftovers are deep fried tempura-style. There was more than enough. We also had sashimi (it's usually the best choice when you can see the ocean) and 'ochazuke'. This is a simple dish of rice with green tea or broth poured over. Here of course it was packed full of fish.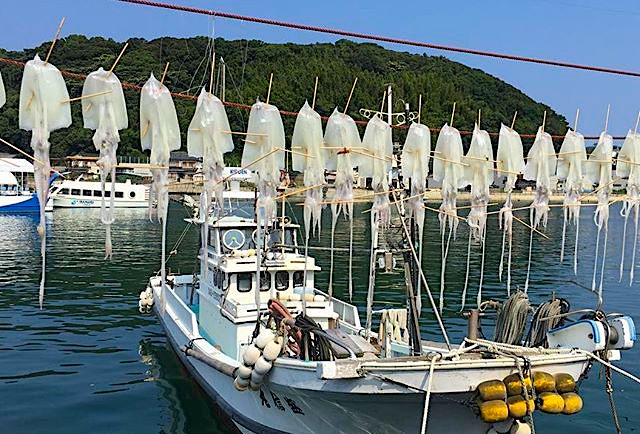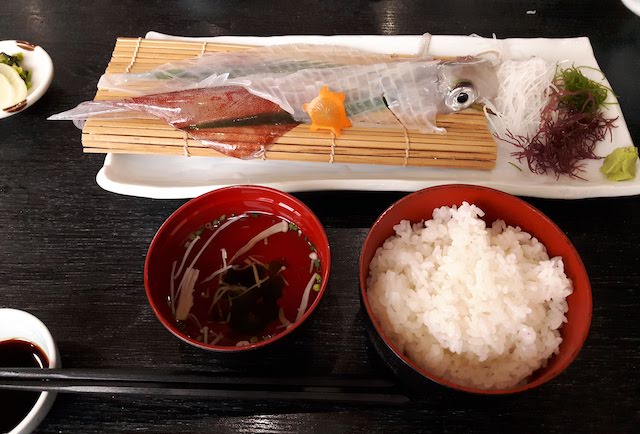 Next stop on our 2-day tour of Kyushu pottery villages was Arita. This is probably the most famous of the Kyushu pottery villages (though actually they are towns). Arita ware is often delicate porcelain compared to the rougher pottery of Karatsu. The colours differ too. Arita ware tends to have a white base gracefully decorated with reds or blues. This is in contrast to the simpler browns and greys of Karatsu. Of course these are generalisations and styles often overlap or diverge. You can read more on our Kyushu pottery villages page. When we arrived we visited our favourite Arita gallery. Actually we skipped browsing the gallery and headed straight to the coffee shop inside. It's such a fun place for pottery lovers; choose your coffee cup from the hundreds of gorgeous designs.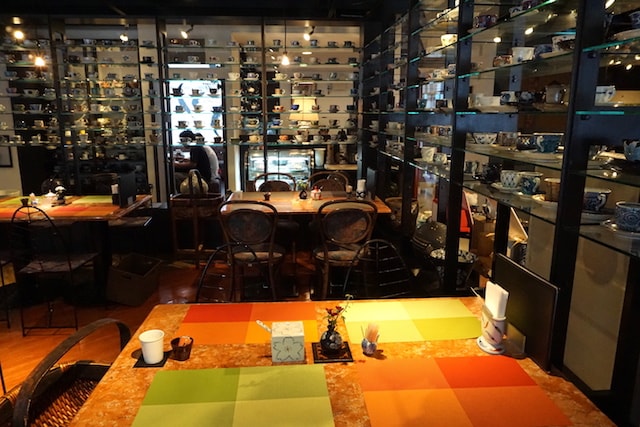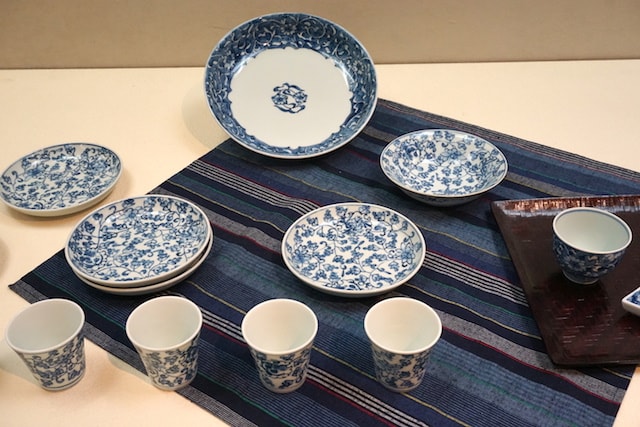 After our coffee in our chosen cup we drove to nearby Kyushu Ceramic Museum. This weekend offered a rare chance to see some of Arita's master craftsmen and women at work in a special exhibition. It was a pleasure to watch their steady hands, careful eye and patient manner. We discussed with them how difficult it is to tell if a piece is hand-painted or not. Hint: look for a curved part. If it's a transfer (instead of hand-painted) it will look very slightly uneven. One of them also politely grumbled about his meagre hourly pay. You can see from the video how painting by hand is so time-consuming. Imagine doing this for a whole dining set! Don't forget that often the painting is done in several layers with kiln firings in between. The short video we shot below shows one of Arita's finest overglaze craftsmen diligently at work. Now he's doing a cup. I guess it's a piece of cake after the chess set! You can see it's a very different production style to the video we shot of the Karatsu potter (see above). Much more fussy and fiddly.
It was starting to get dark but we still had one place we wanted to visit. These days less well-trod but in fact it's the historic heart of Arita. Except for a watchful cat there wasn't a soul in sight. This is where it all began hundreds of years ago. The old walls once hid the secrets of porcelain production from the prying eyes of competitors. The goods conveyed to emperors and kings. Even the walls themselves, now crooked with age, tell the story. They are made with bricks from abandoned kilns and discarded pottery fragments. Nearby was the cemetery. In Arita even the dead are blessed with beautiful art.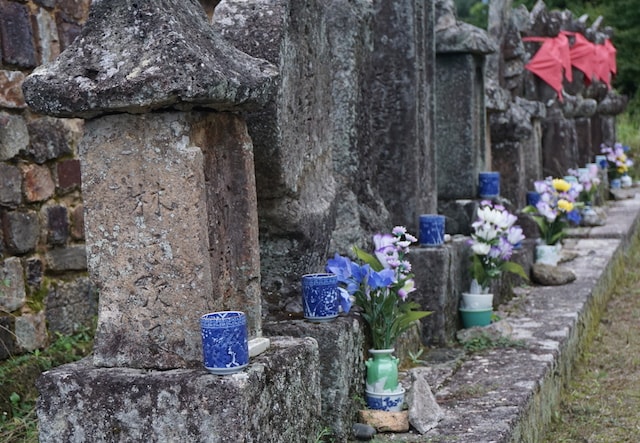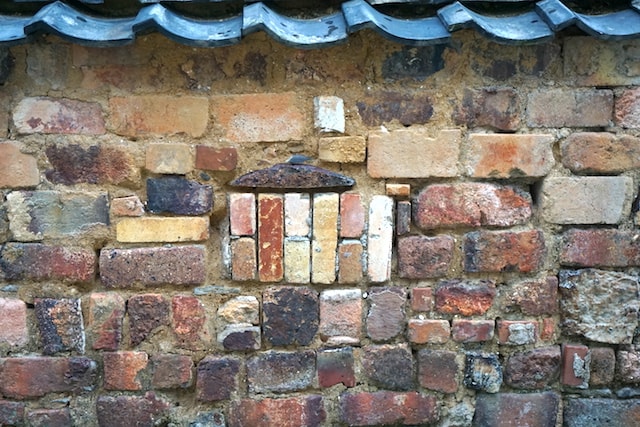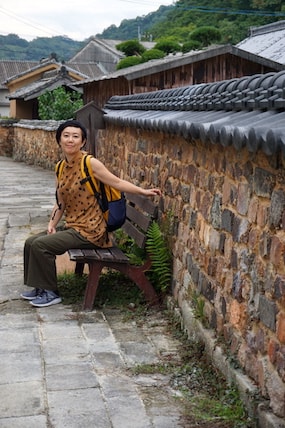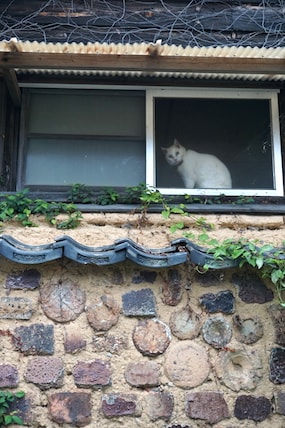 Final Thoughts
This Kyushu road trip was just 2 days but you can see we fitted a lot into our itinerary. That's one of the great things about travelling around Kyushu. It's a relatively small island but there's so much to see and do. We did this trip by car and it would have been difficult by public transport. This doesn't mean you can't do Kyushu by train. It just means you need to choose your route carefully. About half our clients do rental car self-drive. The rest travel by train. Contact us if you want us to arrange a Kyushu trip to the pottery villages however you plan to travel. Read more about Kyushu pottery villages here.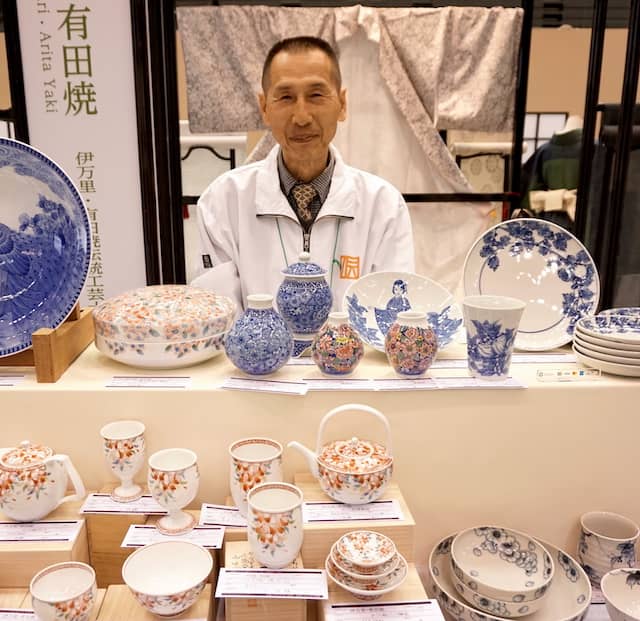 Postscript
A few weeks later we came across the craftsman from Arita again. He's the one you can see in the video above. This time he wasn't making his beautiful things. He was selling them. As he told us, "there is no middleman". It's a bit difficult to see the prices from this photo but they range from ¥3000 up to about ¥15,000 ($30-150). Not bad. Not bad at all.
Comments or Questions
Leave your comments or questions below. We'll be happy to answer. If you've travelled in the area add any tips, advice or information so other readers can benefit. If you're a pottery lover, you can just say 'hi'.