Come with us on a Kyushu road trip. Discover the bubbling Hells of Beppu, a silent temple, a quaint fishing port, and peek behind a pounding wall of water. Get a taste of one of Kyushu's most colourful shrines and prettiest onsen towns. Take a look inside a traditional Japanese inn. Step back in time.
We took this 3-day road trip with a buddy from America in October 2018. It's a real rural trip with a ton of yummy food and autumn peeping through. Read on to get an idea of what a Kyushu road trip is all about. Contact us if you want help planning your own self-drive adventure.
Let's go …
We headed off to Oita and first stop was Ao no Doumon tunnel. It runs through solid rock and there is a cautionary tale behind it. It was built by hand (actually hammer and chisel) by a hardworking Buddhist monk. It's 180 meters long and took him quite some time. Finally, after 30 years he was done. Legend says he took this chore to atone for a murder he had committed in a previous life. Moral of the tale: be good in this life to avoid hard labour in the next.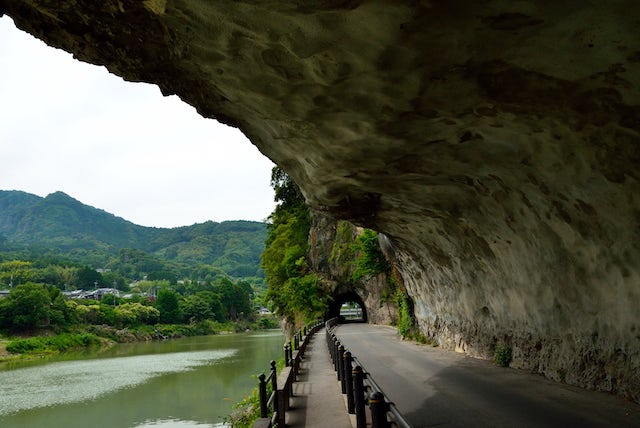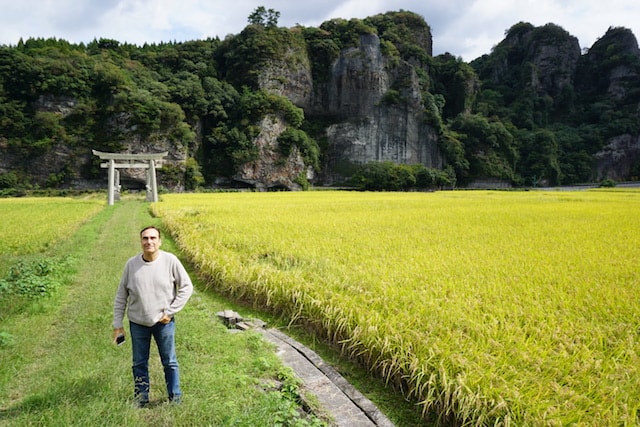 Next stop, Rakanji Temple. But there's one problem. Strictly no photos are allowed. This doesn't make for great blogging but results in an unforgettable experience. This was definitely one of the highlights of our trip. The temple has stood clinging to a cliff above a dense forest for 1,500 years. Still it stands, peaceful and serene. It's home to 3,700 stone Buddhas and a zen-like calm. Thankfully, undisturbed by clicking shutters.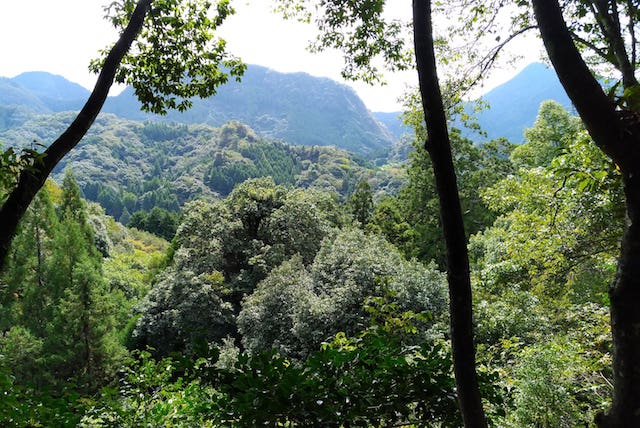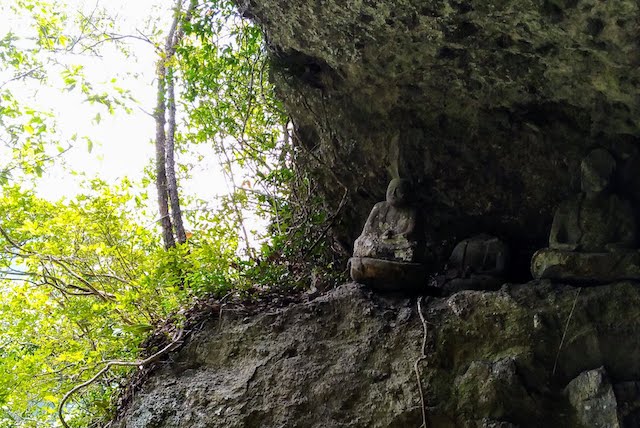 The zen-like calm had made us hungry so we stopped at a roadside udon restaurant. I had my go-to favourite of wakame gobo udon (udon noodles with seaweed and burdock). Burdock with udon is a Kyushu specialty and the roughage helps keep you regular. Someone on Trip Advisor had meanly written, "don't stop here because it's run by a really old couple who take ages to prepare the food". They should have written, "stop here because it's run by a really old couple who have learnt over decades to make the tastiest food". I don't do Trip Advisor, but I mentally gave it five stars.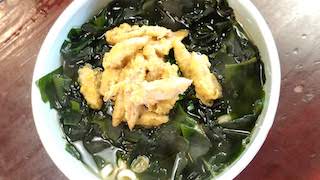 Our 21st century road trip headed a few hundred years back in time to the samurai town of Kitsuki. Like everywhere we had been so far there were hardly any tourists around. This is the really great thing about travelling in Kyushu. Except for the main attractions, the whole island feels off the beaten track. We were late enough to arrive at school going-home time and enjoyed the chirping of the local kids. We were also late enough to miss the castle and samurai houses because everything was already closed. Never mind. It was thrilling enough to walk the ancient streets where fearsome samurai feet once trod. Kitsuki is popular these days for a place to rent kimono and stroll around Instagramming. We were too late but didn't plan that anyway. Me and Jason would have looked daft and Moo says they are really heavy and the shoes kill her feet.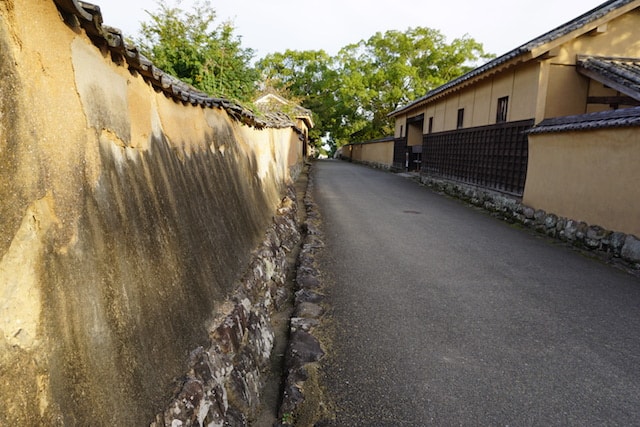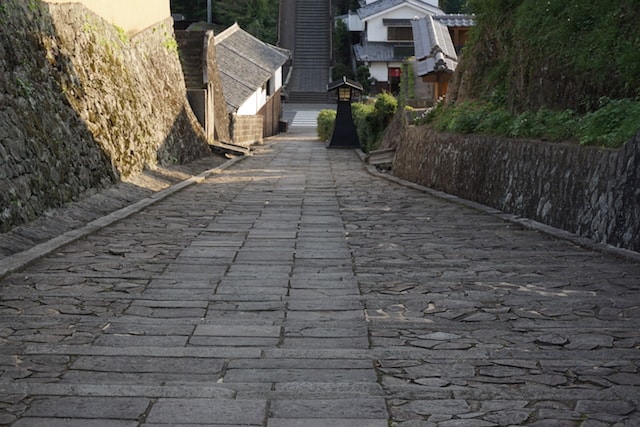 We had a lovely drive along the coast and by the time we got into Beppu it was already going dark. We drove up to the observatory to get a panoramic view of the city. Our timing was perfect, just as the sun was setting behind the mountains and a crescent moon was shining. We could clearly see the steam rising (as it always does) from the many volcanic vents in Beppu. It's one of Japan's favourite hot spring resort towns and in fact has more hot springs than anywhere else in the country. If you are not sure what it's all about, read more about onsen (hot spring resorts) here. We stayed overnight in Beppu and of course our hotel had its own hot spring bath. It's the perfect way to soothe weary muscles after a long day sightseeing.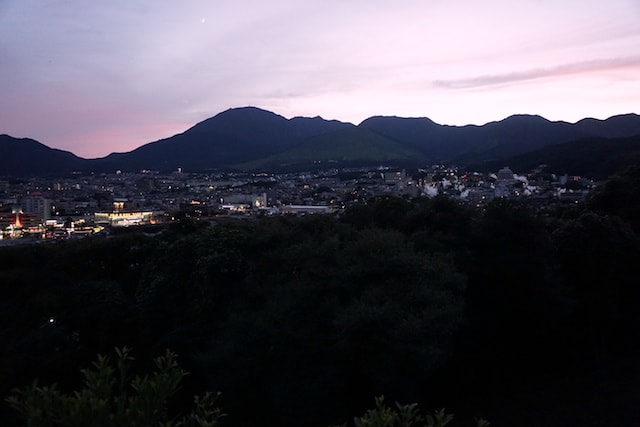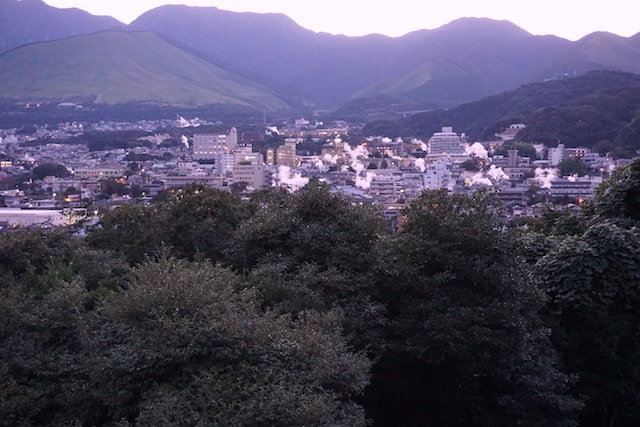 While Jason sparred with the hotel staff about his non-smoking room, Moo wandered off and found an izakaya (Japanese pub). Unfortunately "non-smoking" rooms in Japan are often rooms that had a smoker in just before, and the staff simply sprayed some air-freshener around. The food in the izakaya was tasty, cheap and mostly healthy – see pics below. Moo had whisky high-ball which is popular in 1940's movies and 2010's Japanese bars. The good thing about izakaya is that they offer various kinds of food so are a good choice for group dining. The bad thing is that customers can smoke inside.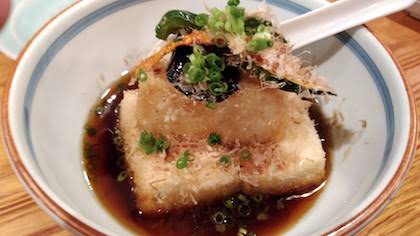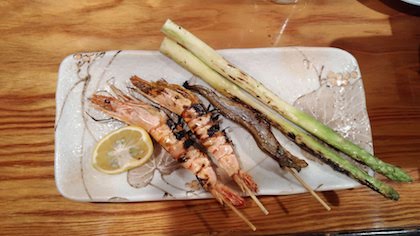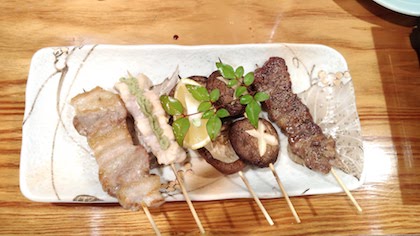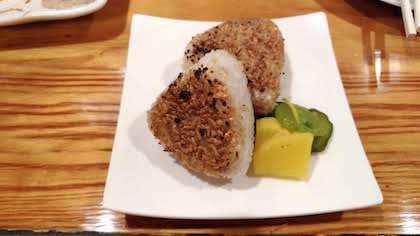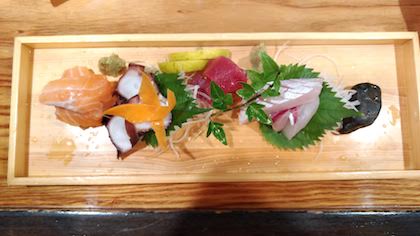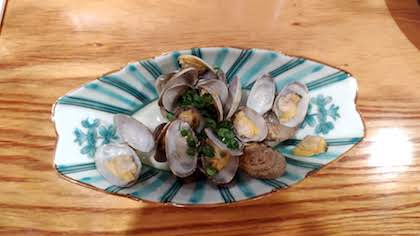 We started the next day as we finished the previous day: by arriving late. We thought 7.30AM was really early but in fact the fish market had already ended. Still, it was a picturesque little harbour and not a single tourist in sight. We came across a fisherman chopping up his just-caught hamo (sea eel). It's considered a delicacy and is wildly expensive in Kyoto. The fisherman took pity on us and asked his wife to prepare some hamo soup. It tasted deliciously of freshly caught fish but she refused to accept any payment. He was busy chopping. For each 3.3cm hamo should be chopped 24 times but he said 15 was enough. Perhaps he was just tired of all that chopping. We bothered some more fishermen with inane questions and then hit the road again.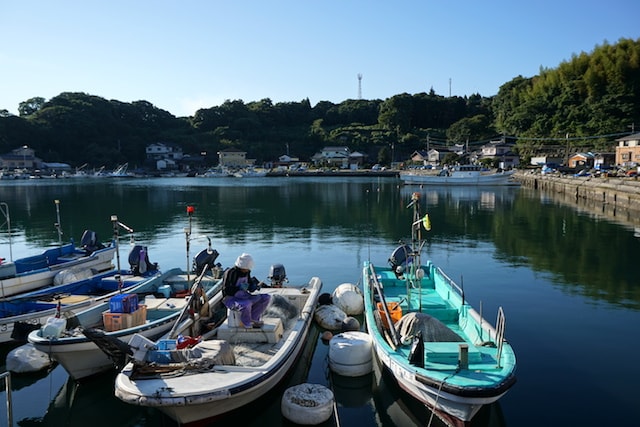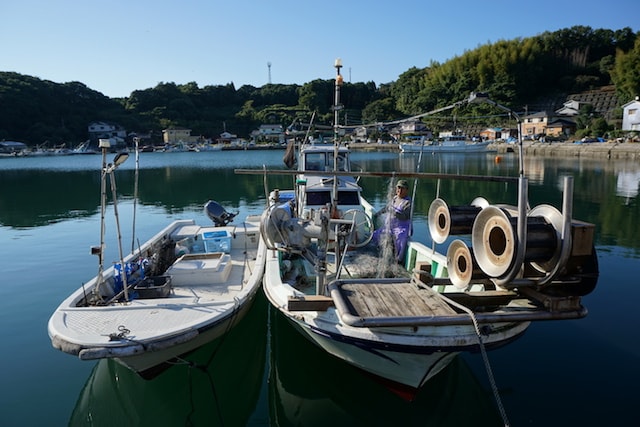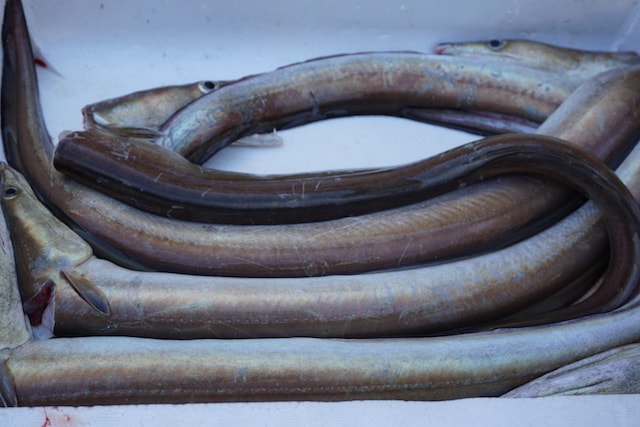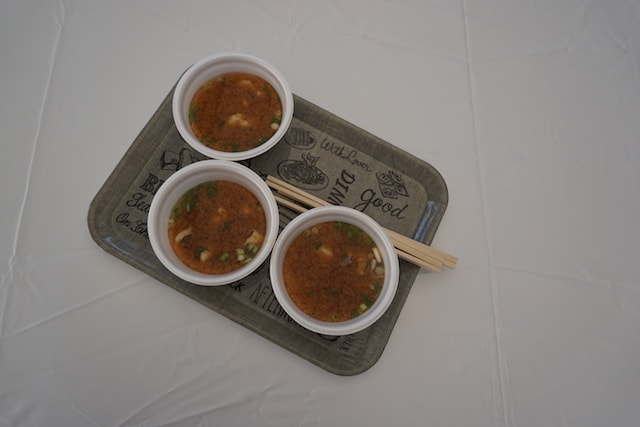 For reasons too complicated to explain we abandoned our plans to go somewhere else and headed back to Beppu instead. The town is famous for three things; onsen, The Hells and steamed food. We'd had our onsen bath the night before so we headed for the Hells. Actually there are seven of them but we just visited two. You have to be a hard-core devil to visit all seven. The Hells are boiling, bubbling pools of steaming water. They are way too hot to bathe in but a lot of fun to visit and excitingly photogenic. They vary from milky green, to cobalt-blue to vivid red. Most of them have relaxing foot-baths, enjoyably tacky souvenir shops and naturally steamed food for sale. Miraculously, Jason's long-arthritic toe sprung into life after a couple of foot-baths. In fact you can buy their medicinal essence. The photo below shows powdered volcanic stuff that is said to be good for skin problems and 'odour'. My mum swears by the blue anti-arthritic one and I always take her some back home. Just pop in into your bath and let the magic do its work. For lunch we had volcanically steamed egg and red bean dumpling.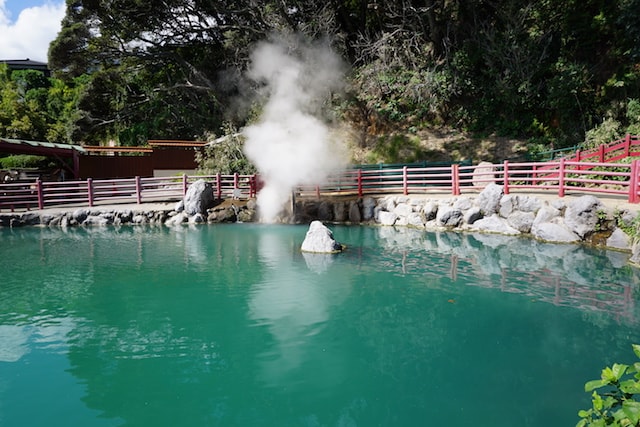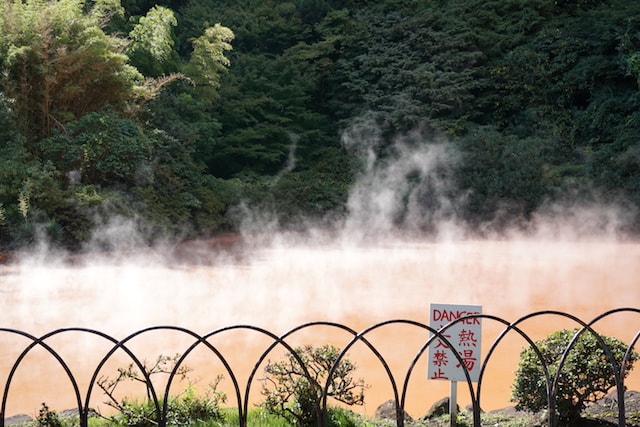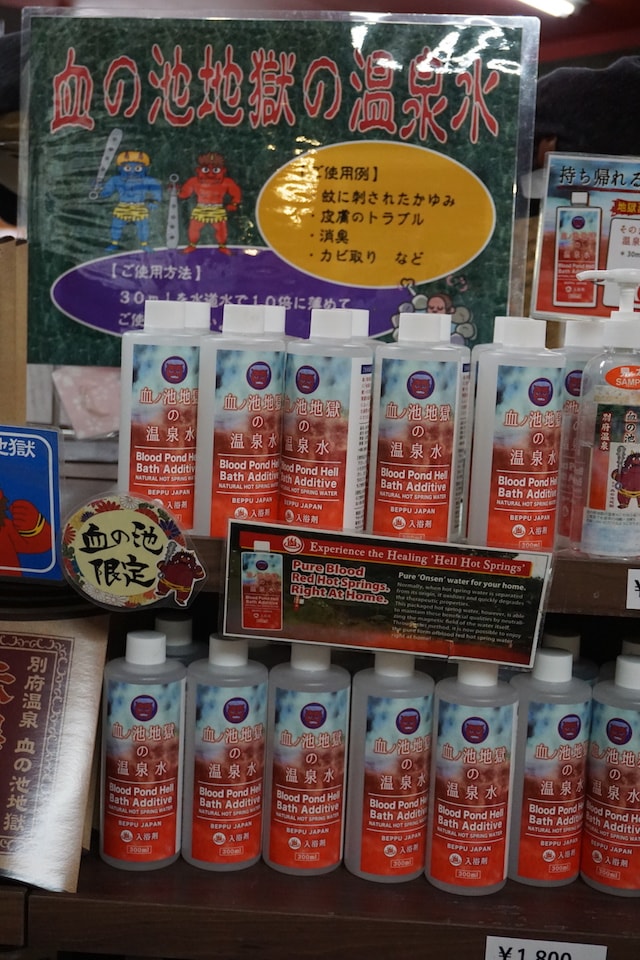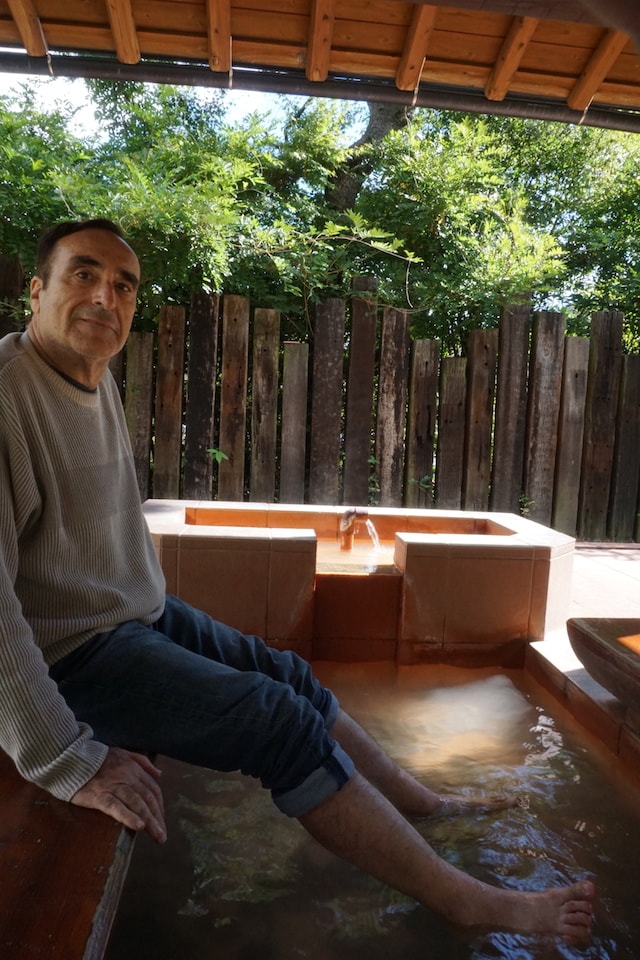 After lunch we headed to Usa. Not the country, but the shrine. It's 1,000+ years old and huge. Lazily we took the cable car instead of trudging up all the steps. We enjoyed walking around its heavily forested grounds and spotted the first hint of autumn on this lovely sunny day. There are a number of buildings, bridges and gates, all gaily painted red. It makes for a great photo shoot. The omikuji (fortune predictions) wall was the biggest I have ever seen. Worshippers pay a small fee and take a slip of paper with a prediction written on. These generally concern love, wealth or health and can be either heartwarmingly cheery or scarily glum. Papers with bad predictions are tied to the omikuji wall. Confusingly, some people tie good predictions to the wall too. Tourists can have a go. Give it a try next time you visit a Japanese temple or shrine.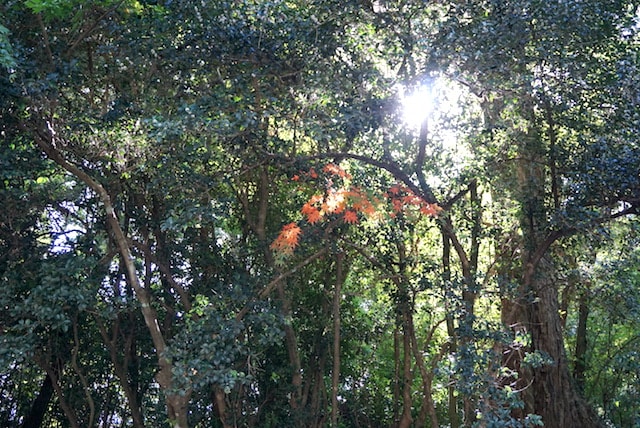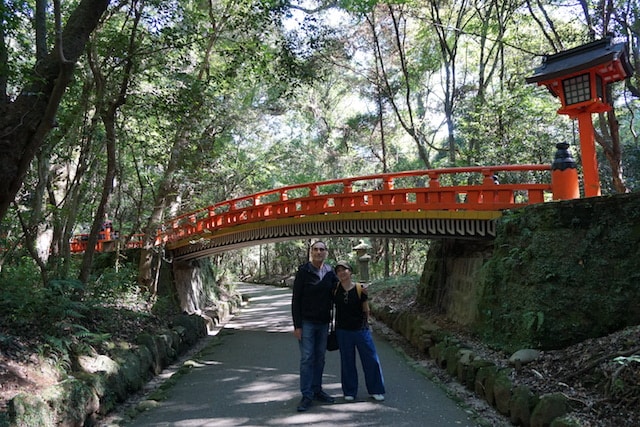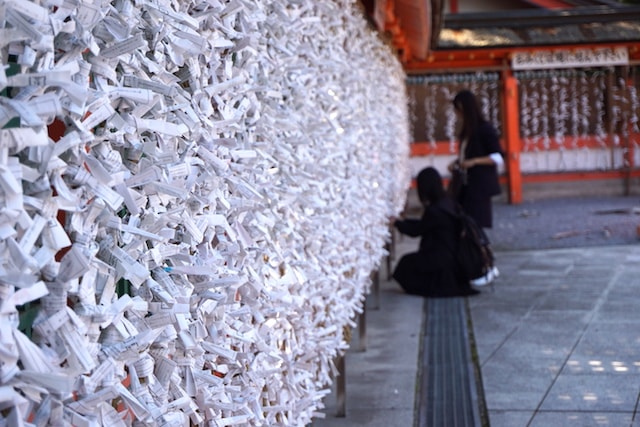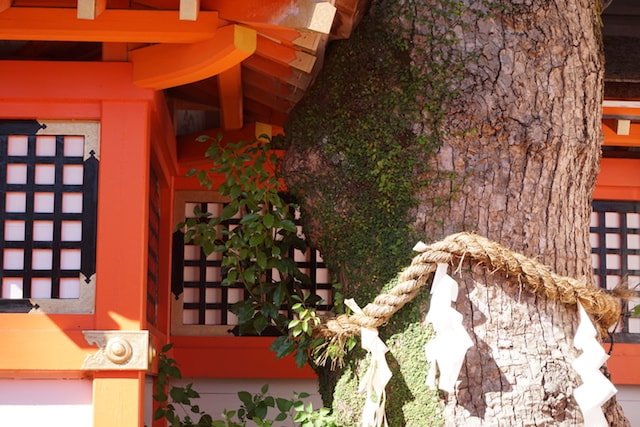 We cheated a bit (and saved some cash) by spending a night at home. We live in a nearly 100-year-old house and Jason wanted a look. For dinner we headed to our local revolving sushi restaurant. Coming from California, Jason was constantly amazed by the quality and price of the sushi in Japan. It's commonly less than a dollar for two pieces. We shared some of our favourites: seared salmon with onion and mayo, medium-fatty tuna, and conger eel. The next morning Japanese mum laid on a simple breakfast that had us bouncing out of the house full of nutrients. The Japanese often judge the healthiness of a meal by the number of ingredients used. Moo counted 14, quite a few of them from our little farm.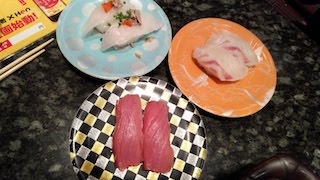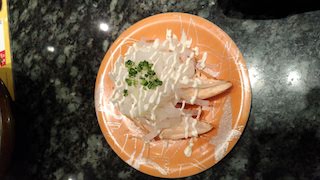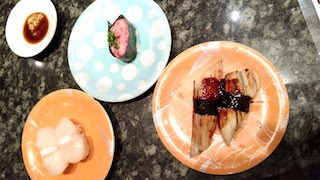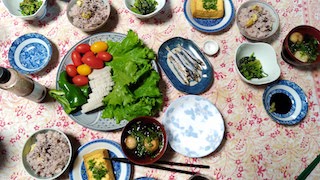 The next day was the trip highlight: a night at a traditional Japanese inn (ryokan). Kyushu is Japan's most prolific hot-spring island so almost all ryokan here have in-house onsen baths. The one we stayed had an impressive range. Two inside baths (one male, one female), two outside baths (one male, one female), and three family baths. The family baths allow couples or parents with kids to bathe together behind locked doors. The outdoor baths are a treasure of Japan. Zen-like stone pools, trees overhanging, birds singing, up to our neck in toasty hot water. There can be few better ways of easing the stresses and strains of modern life.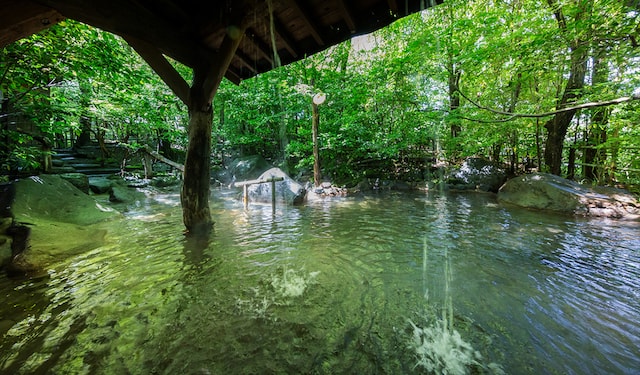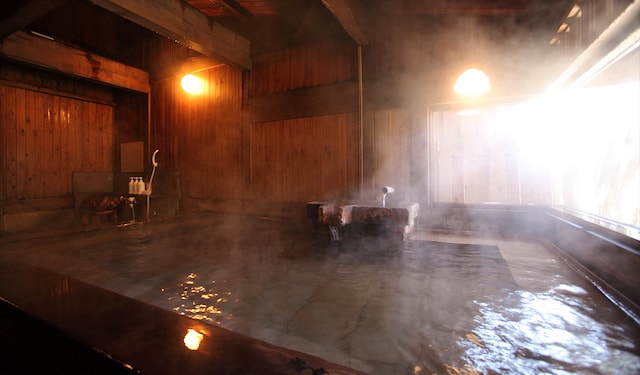 The ryokan we stayed wasn't cheap. We paid ¥20,000 or about $175 per person with three of us in one room (you don't usually get singles). It was worth every yen. There were only 11 rooms and we were treated royally. The staff were exquisite and the inn was delightful. All old wood, bamboo, nature and art. It was tastefully decorated and spotlessly clean. Me and Moo chose to sleep on futons on the soft tatami straw mat floor, while Jason opted for a bed (his arthritis again). We had so much fun just wandering around the place soaking up the atmosphere.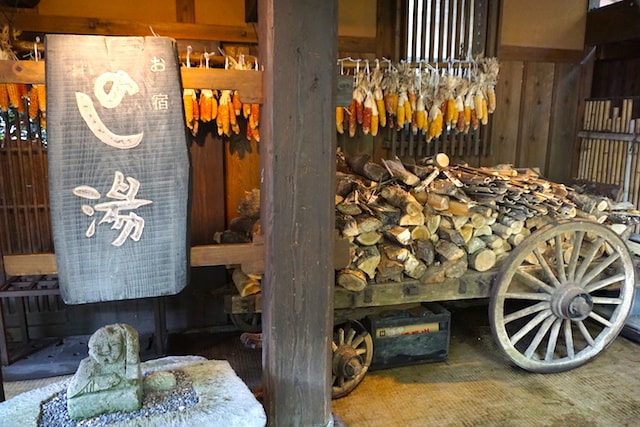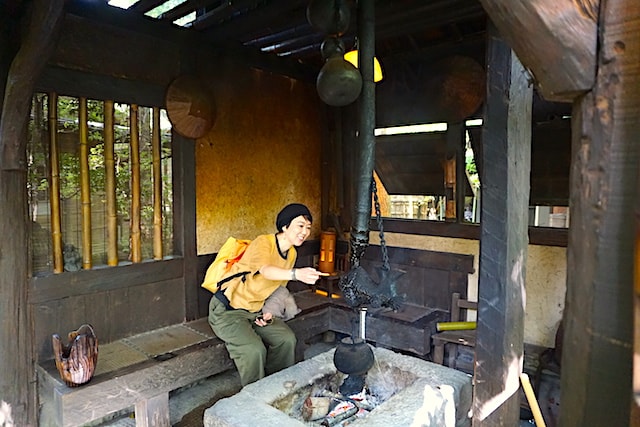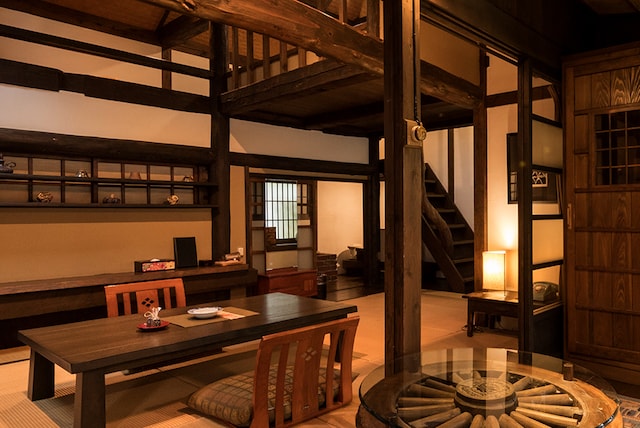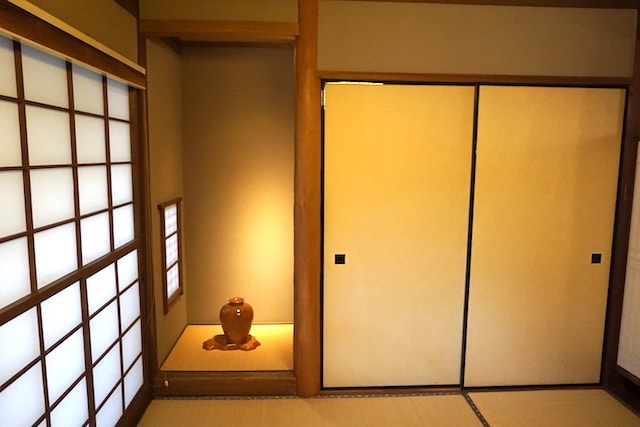 We didn't pay $175 just for the room and the baths. The kaiseki dinner was fit for an emperor. If you aren't familiar with the term, kaiseki may be roughly translated as 'haute cuisine' or more clumsily as 'traditional multi-course Japanese dinner'. It's a chance for the establishment to show what they can do with the local seasonal ingredients. It aims to impress. Ours consisted of 10 courses and took 2 hours to serve, which is pretty typical. It doesn't just awe the taste buds either. It was a visual feast, plated impeccably on enchanting ceramics. I've said enough. The pictures below speak for themselves.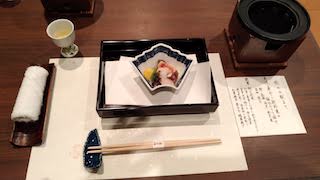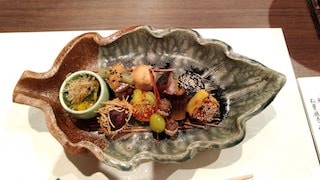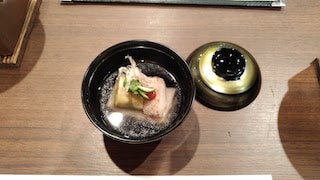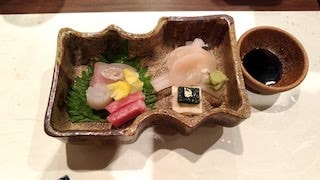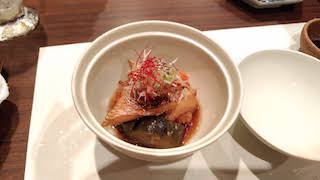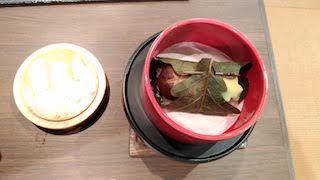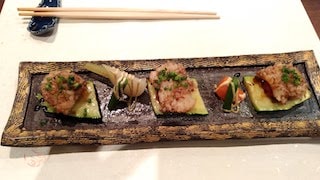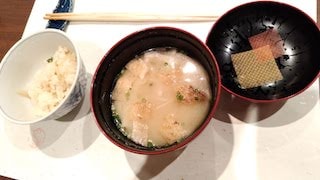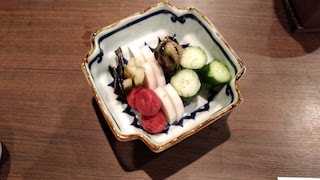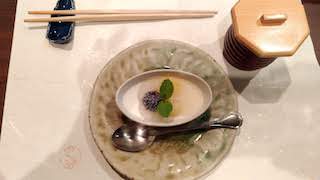 After all that eating we awoke to a huge breakfast. Then time to burn off a few calories with a stroll around the village. We were there mid-October and autumn was gradually awakening.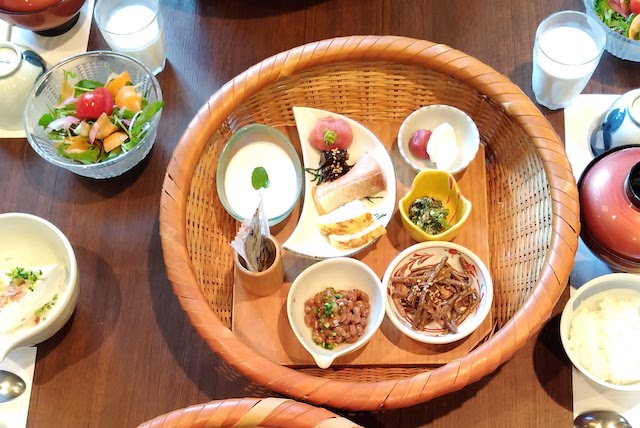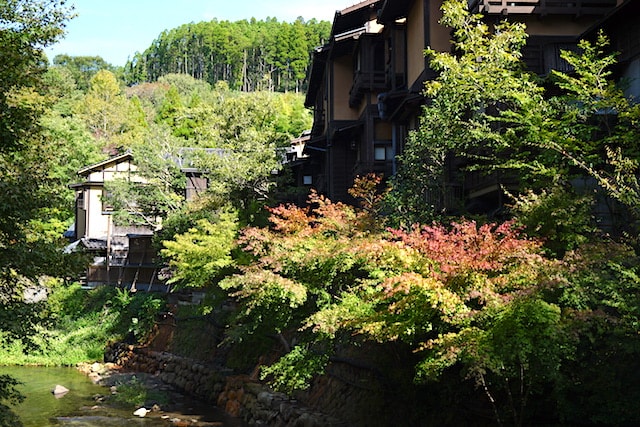 The last stop on our short Kyushu road trip was a picturesque waterfall. It's well-known in the area because you can slip behind the wall of water. After all our hot baths (5 in 2 days) we finally had a cold shower.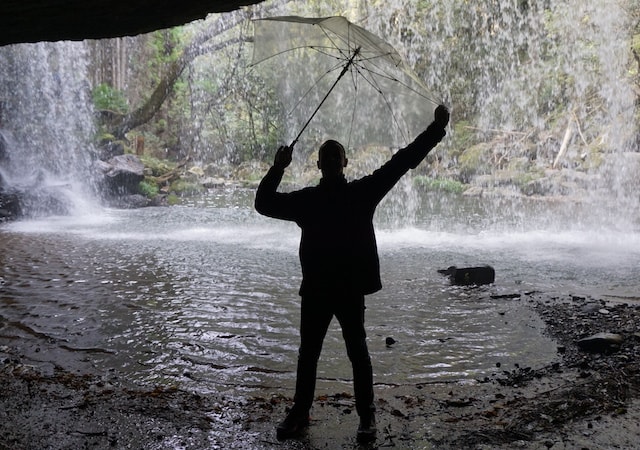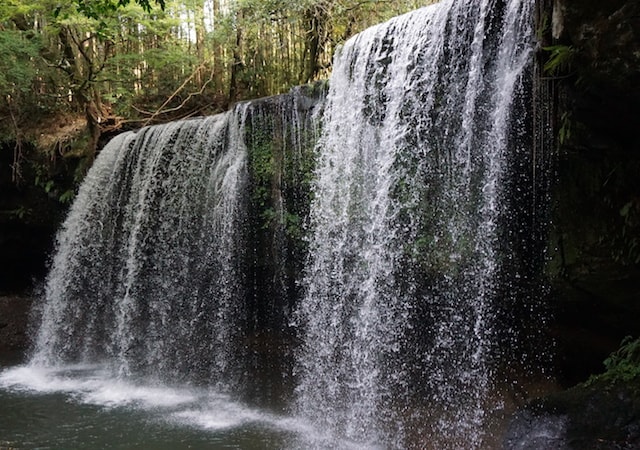 Final Thoughts
We fitted a lot into our two and half days Kyushu road trip. We could have fitted more, but why should we? Kyushu is a place to take your time, smell the flowers, leave the rat-race behind. We did this trip by car and it would have been difficult by public transport. This doesn't mean you can't do Kyushu by train. It just means you need to choose your route carefully. About half our clients do rental car self-drive. The rest travel by train. Contact us if you want us to arrange a Kyushu trip for you however you plan to travel.
Comments or Questions
Leave your comments or questions below. We'll be happy to answer. If you've travelled in the area add any tips, advice or information so other readers can benefit.