Announcement: next retreat not yet scheduled. Leave your contact details to be the first to know when dates are released.
Find your Zen of Health & Happiness
Escape the crowded cities, immerse yourself in nature and discover the joy of yoga. Enjoy healthy vegetarian temple food (called 'shojin ryori' in Japanese) and spend time with like-minded people. Give yourself permission to truly relax. Experience profound serenity in the traditional heart of Japan. Embark on a journey of self-discovery deep into the heart of yoga.

Yoga and Meditation
You are sincerely welcome whether you are a complete beginner or experienced yoga enthusiast. It's a wonderful opportunity to spend quality time with a patient and knowledgeable instructor. The doors of yoga and meditation will open wide. Ask questions, improve your technique and broaden your knowledge. Enjoy a gentle introduction to meditation or delve deeper. Little by little extend your personal meditation comfort zone. Quieten your chattering mind. Discover the subtle secrets of the yogi and start to unlock yourself.
Location and Access
Escape Japan's mega-cities and discover Kyushu island. Famous for its food and scenery, traditional Japan can still be found here on Kyushu. Life moves at a slower pace.
The retreat will take place at a traditional Japanese inn ('ryokan') with its own in-house yoga studio and natural hot spring baths ('onsen'). The inn is surrounded by nature and right next door to one of Japan's oldest wooden temples.
The retreat is accessed from Fukuoka city. This is a main transport hub with an international airport and a bullet train station allowing easy access from all parts of Japan.
Price
¥210,000 (Japanese yen) per person
Currency convertor here
Inclusions
Return transport (private bus) from Fukuoka city
4 nights accommodation
Vegan meals
Drinking water & herbal tea
Unlimited fun, joy and laughter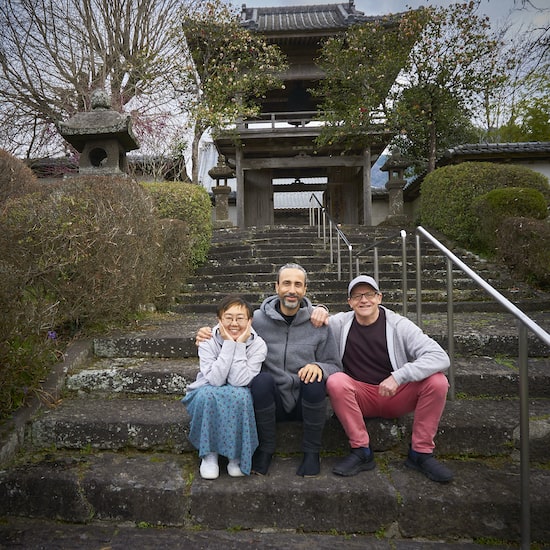 About Us
This yoga and meditation retreat was created by Dario Calvaruso as his passion-project and he will be your teacher. Dario travelled through India, Nepal, Pakistan, Tibet and Bangladesh for many years to learn yoga in the most authentic tradition. What started as a journey of self-discovery became a lifestyle that others are inspired to follow. Wanting to be close to nature, he has chosen Kyushu as his home.
All the boring bits (logistics, paperwork etc) are the responsibility of Kyushu Journeys. Owned and managed by Moo, a Kyushu local, and Simon, we want to help you find the real Japan and avoid the tourist traps. It's our mission to introduce you to our amazing island of Kyushu so you can tell the world. We strive to operate at all times with honesty and integrity. Serendipity led Simon to meet Dario, as they were both challenging themselves in Kyushu's hottest natural spring bath.
Kyushu Journeys is a fully registered Japanese travel agent with all legal protections in place.
FAQS
Read the most common questions here or send us a message. We are waiting for your questions about this yoga retreat on Japan's most amazing island.
WHAT KIND OF ROOM WILL I STAY?
All rooms are traditional Japanese style. You'll feel completely grounded sleeping on a futon mattress on tatami mat flooring (see photos below). Tatami has been used for centuries and represents the true essence of authentic Japanese living.
Rooms can sleep maximum 4 people but you won't be sharing a room with anybody except the friends or family you book your retreat with. Single occupancy also available.
For a special treat, request one of the rooms with private (in-room) natural hot spring bath.
Futons, pillows, sheets and toiletries are provided.
WHAT IS THE FOOD ARRANGEMENT?
All food will be lovingly prepared 'shojin ryori' (traditional vegetarian Buddhist fare). This dietary choice allows you to feel energized and clear during and after the retreat. Herbal teas and drinking water will be freely available. Please inform us prior to booking if you have any specific dietary restrictions.
DO I NEED TO HAVE DONE YOGA OR MEDITATION BEFORE?
No you don't. Dario welcomes total beginners, experienced yoga teachers and everybody in between. He loves to share his passion without boundaries.
DO I NEED TO UNDERSTAND ENGLISH?
Yes you do. At least a basic understanding will be needed. Yoga, meditation, and workshop instructions will be given in English only (though the teacher also speaks Italian and basic Japanese).
WHAT ARE THE COVID-19 PRECAUTIONS?
Fortunately, the pandemic levels in Japan (and especially here on Kyushu island) are very low compared to most countries. However, we will still take standard precautions that you would expect at any public function. Wearing a mask inside the inn is optional. Outside the inn please follow Dario's instructions about mask wearing as we want to respect the wishes of the local community.
DO I NEED TO BRING ANYTHING WITH ME?
Changes of clothes
A reusable drinking bottle
Any medications you require
Small backpack for hiking
Hiking boots or shoes
HOW DO I GET THERE?
We will all meet in central Fukuoka city at 9AM on May 26. You will be dropped back to Fukuoka city at 7PM on May 30. We'll be happy to help arrange accommodation for you in Fukuoka city. Transport to and from the retreat location will be by comfortable private bus.
WHO RUNS THIS RETREAT?
This tour has been commissioned by Walking Wise Tours & Travel (UK) after extensive discussion of the itinerary with ourselves (Kyushu Journeys) and your teacher Dario. It is based on our recommendations and we will operate and manage all aspects of the tour here in Japan.
CAN I BRING MY YOGA STUDENTS HERE?
Are you a yoga teacher looking for an unforgettable location for your next yoga workshop? Contact us to ask about running your own retreat here. We're happy to cooperate with like-minded people.
WHAT IS THE NEXT STEP?
Email us ([email protected]), complete the form below or send WhatsApp message (+81-90-8354-1194). Inform us how many participants want to join. Feel free to ask any other questions first. We look forward to welcoming you to this yoga and meditation retreat.
Unforgettable Japan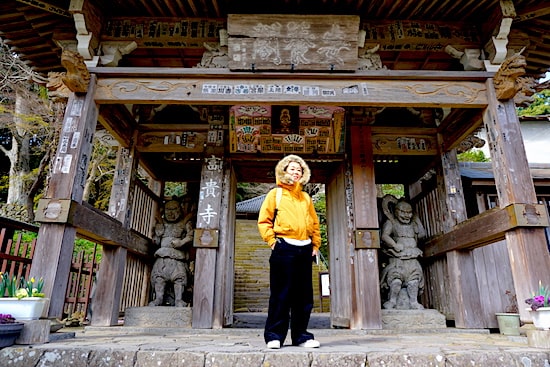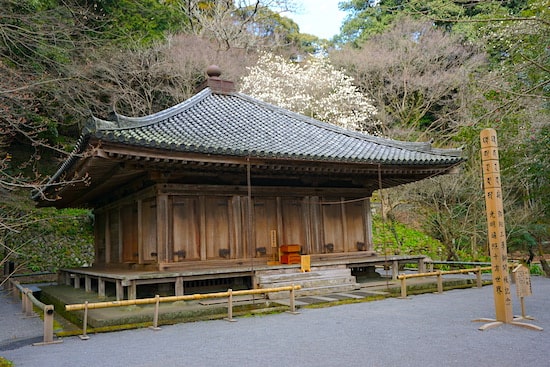 For a completely unique experience, your retreat includes a private tour by the resident monk of the marvellous Fukiji Temple. It is perhaps the simplest and most elegant Zen temple 
in Japan. Built in the eighth century, Fukiji Temple is the oldest wooden structure in Kyushu. The retreat location sits right next door to this haven of peace. Slip away anytime and enjoy the serenity of this spiritually powerful location. Come any morning and join the Zazen seated chanting meditation. It has been practiced for generations to gain insight into the nature of one's existence. This is your chance to join the unbroken chain of over 1,000 years of Buddhist practice here on Kyushu island Japan.
Are you Ready?
We can't guarantee that joining this retreat will change your life. In fact, it probably won't, right? Only you can do that. But with the love and support of your teacher, and new friends you make while here, you will be taking the first step to unlocking yourself and finding the secret of boundless joy. We all deserve to be happy and to reach our full potential. The first step starts here. We can welcome you in, but only you can open the door.