KYUSHU

CHERRY BLOSSOM
TOUR
2024
We know the best cherry blossom spots in Kyushu. Join our guided 'sakura' package tour and see them for yourself.
It's a cost-effective tour with an English-speaking guide and private tour bus. Contact us to request detailed itinerary or read the tour FAQ. Book with confidence with an all-in-one price (no hidden extras). Booking now for spring 2024. Latest update: Only 7 spaces still available.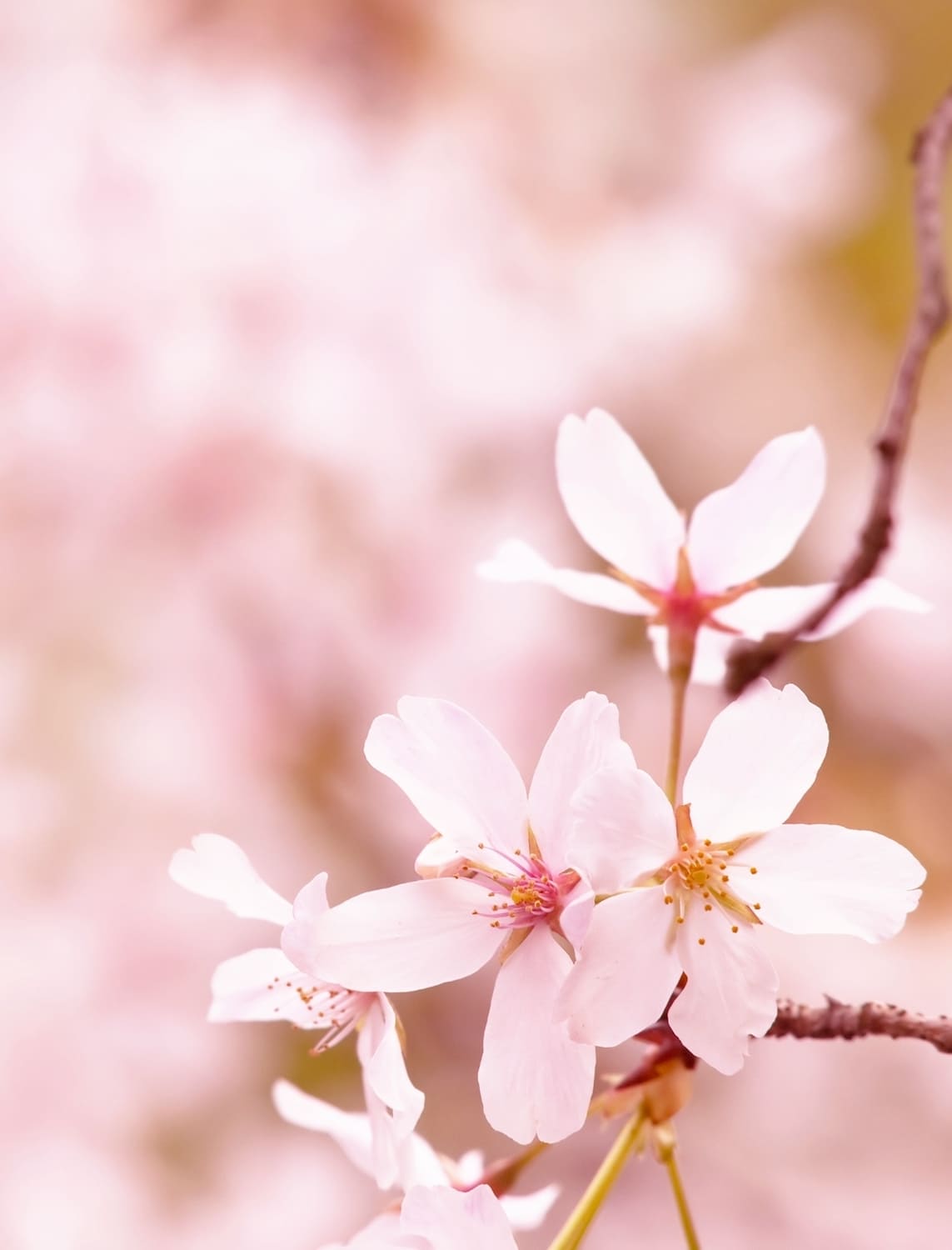 Tuesday 26 March 2024
To
Sunday 31 March 2024
Tour starts and ends in Fukuoka city
Day 1 (Overnight in Hita)
Cherry blossom in old castle ruins → Specialty eel restaurant for lunch → Strolling traditional Japanese town → Exquisite handmade dolls' extravaganza → Exploring bygone era Japanese stores→ Afternoon sakura viewing → Dinner in old-style local eatery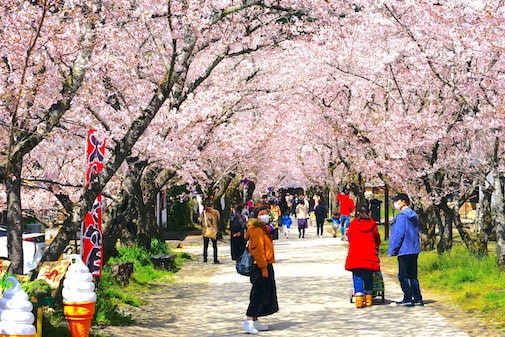 Day 2 (Overnight in Aso-Kuju mountains)
Unique (and wonderfully photogenic) temple → Kyushu's best countryside → Active volcano crater → Countryside lunch → Optional natural hot spring (onsen) bathing with glorious scenic views → Grass-reared beef dinner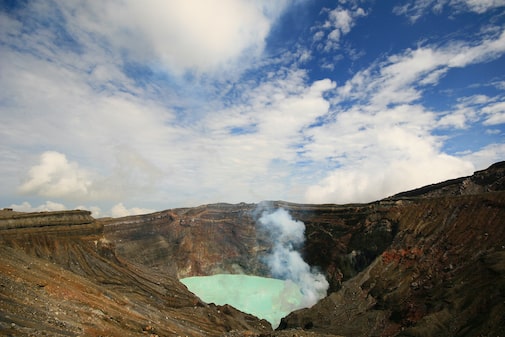 Day 3 (Overnight in Shimabara)
400 year-old cherry tree → Traditional lunch in 100 year-old restaurant → Ocean ferry ride → Sakura viewing in vast rapeseed fields → Buried houses → Optional onsen bathing → Catch of the day seafood dinner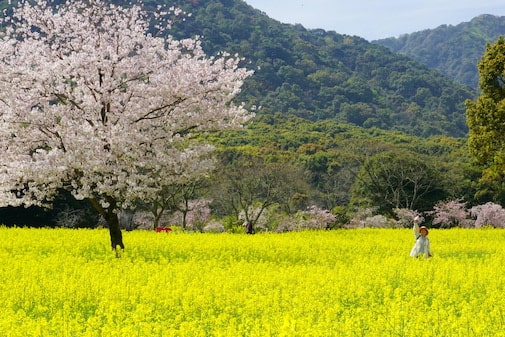 Day 4 (Overnight in Ureshino)
Boiling and bubbling Unzen Hells → Local style lunch → Castle garden with 2,000 cherry trees → Hands-on green tea making class → Wonderful ryokan (traditional Japanese inn) → Optional onsen bathing (best quality water) → Unforgettable final kaiseki dinner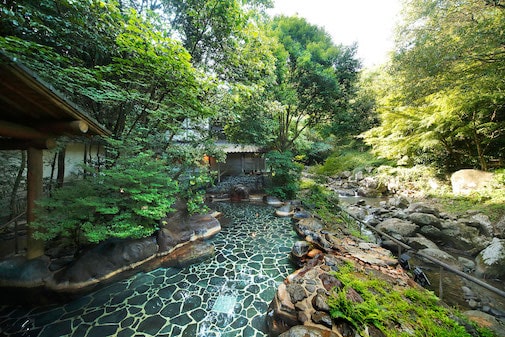 Day 5 (Overnight in Fukuoka city)
Photo spot: venerable old cherry tree in green tea plantation → Village of the Secret Kilns → Browsing pottery shops → Japanese beef curry lunch → Drop to Fukuoka city → Free 'n' easy evening for shopping, dining or nightlife → Optional Fukuoka Castle street food stalls and sakura festival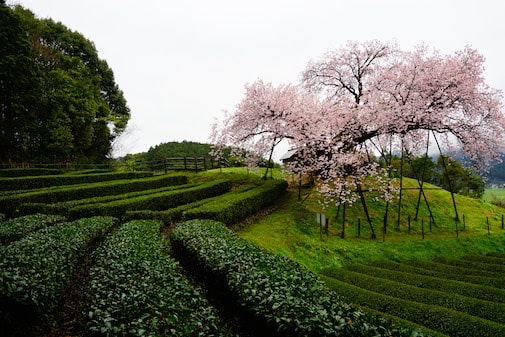 Day 6 (end of program)
Breakfast at the hotel and then checkout. The tour is over but the memories remain. Thanks for trusting Kyushu Journeys for your Japan Cherry Blossom Tour.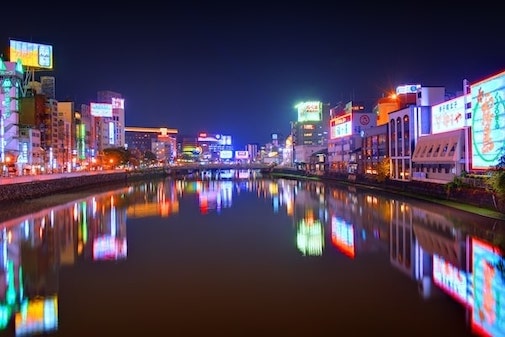 ¥330,000 (Japanese Yen) per person
Currency convertor here
This price is based on double / twin sharing. For a single traveler staying in a room alone the additional charge is ¥132,000.
Tour duration: 6-days / 5-nights
Included: meals, transport, accommodation, guide
Excluded: flight
Send us a message to receive tour brochure and information about how to secure your place. This is our most popular tour so don't miss your chance.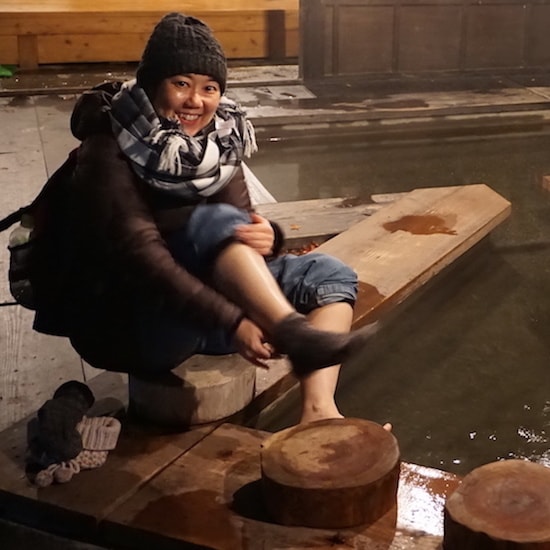 Owned and managed by a Kyushu local we want to help you find the real Japan and avoid the tourist traps. It's our mission to introduce you to our amazing island of Kyushu so you can tell the world.
We strive to operate at all times with honesty and integrity. Expect the highest levels of customer service and expert local knowledge.
Kyushu Journeys is a fully registered travel agent with all legal protections in place.
We are proud to bring you this unique and memorable Japan Cherry Blossom Tour 2024.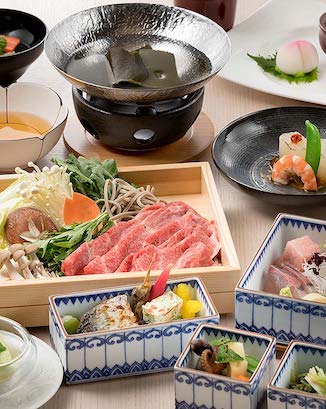 Take the chance to enjoy Kyushu's best wagyu beef.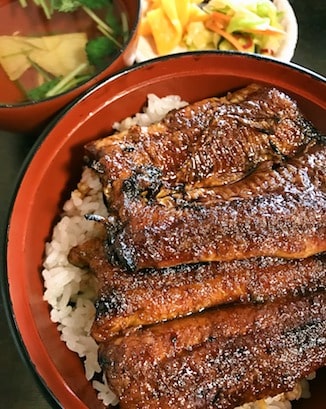 Charcoal grilled eel and caramelized sauce.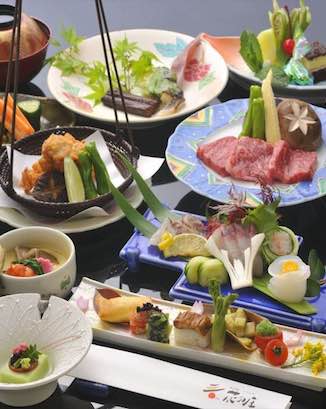 Eat like a king with unforgettable 'kaiseki' dinners.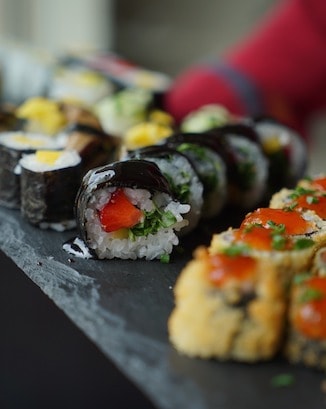 Freshest sushi direct from the fishermen.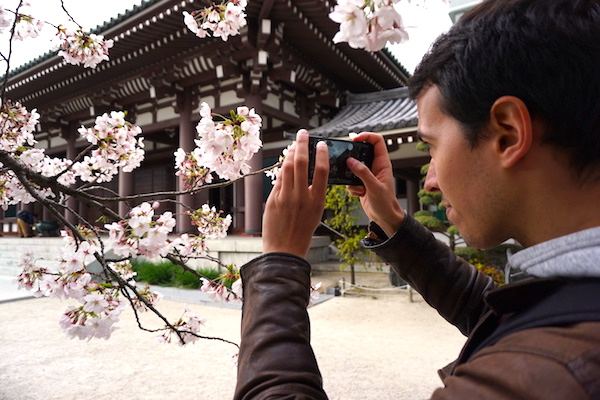 PREVIOUS SAKURA
WORDS & PICS
The cherry blossoms were awesome and the timing just right! Thanks for a memorable trip.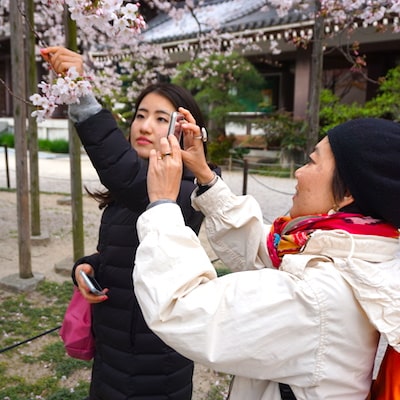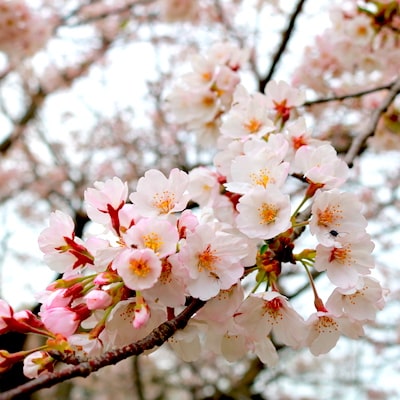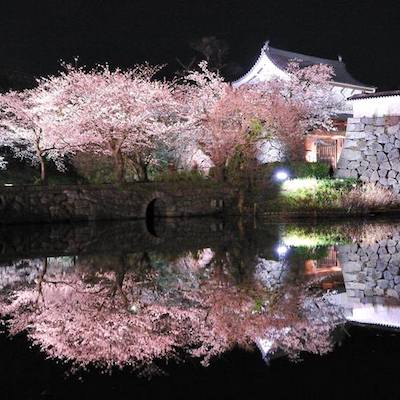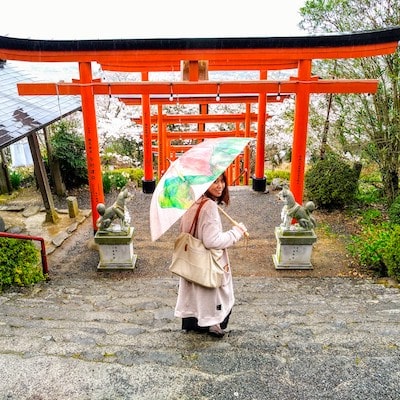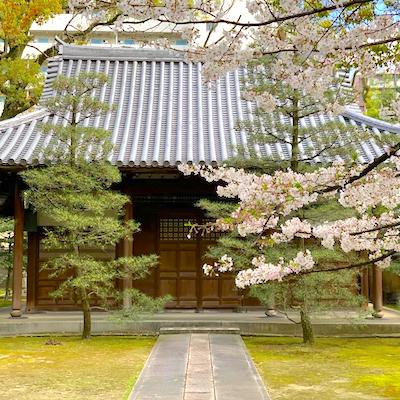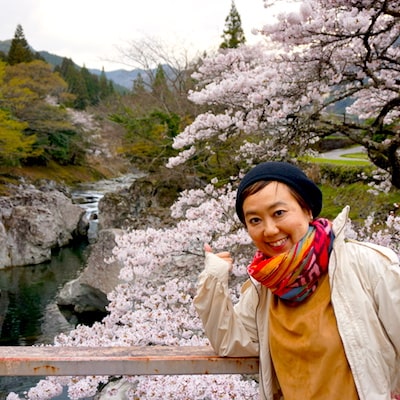 Japan Cherry Blossom Tour FAQS
Read the most common questions here or send us a message. We are waiting for your questions about our Japan Cherry Blossom Tour 2024.
WHAT IS THE DETAILED ITINERARY?
Contact us to request detailed itinerary, price, inclusions, exclusions and booking conditions. Feel free to ask any other questions about this tour.
WHAT KIND OF ACCOMMODATION WILL I STAY?
You will stay in a mix of clean and comfortable city hotels and traditional Japanese ryokan inns with onsen baths. In the city hotels you will be sleeping in western beds. In the Japanese ryokan inns you will be sleeping in a mix of western beds and traditional Japanese-style futon beds on tatami mat flooring. 
WHAT KIND OF FOOD CAN I EXPECT ON THIS TOUR?
Your trip planner is a passionate foodie. She has carefully selected every eatery to highlight the quality cuisine that Kyushu is so famous for throughout Japan. If you have any dietary restriction please ask us about alternatives available before booking your tour.
WHAT IS ONSEN (HOT-SPING) BATHING?
Kyushu is known as 'Onsen Island' so we have included some quality onsen on this tour. An onsen is a bathing pool using water from natural hot-springs. It's a wonderful pleasure with many health benefits. As nudity is required, onsen bathing is usually sex-segregated with males in one public bath and females in a different public bath. If you feel uncomfortable being naked you can skip this activity and relax in your room instead. Feel free to contact us with any questions you have about onsen bathing or ask us about options for private family bathing.
HOW WILL I TRAVEL AROUND?
HOW MANY PEOPLE CAN JOIN?
We love small group intimate travel. Maximum participants will be 12 pax.
CAN YOU RUN A PRIVATE TOUR?
Yes we can. We have several options for couples or private groups of family or friends. Contact us for details.
IS THIS TRIP SUITABLE FOR CHILDREN?
This is an adult tour with no activities for children. We welcome all participants aged 12 years or older. However on a private tour children of any age can join.
IS THIS TRIP SUITABLE FOR SENIORS?
Definitely yes! You will be travelling by private bus and accompanied at all times by an English-speaking tour leader. There are no long hikes on this tour but of course you will need to walk around various attractions. There will be some non-paved paths and steps to climb (especially in shrines or temples). It will be no problem if you prefer to skip any activity and wait for the group on the bus or in a seated area.
WHO RUNS THIS TOUR?
This tour has been commissioned by Walking Wise Tours & Travel (UK) after extensive discussion of the itinerary with ourselves (Kyushu Journeys). It is based on our recommendations and we will operate and manage all aspects of the tour here in Japan.
WHAT IS THE NEXT STEP?
Inform us how many participants and any questions you want to ask. We'll get back to you with everything you need to know about this Japan cherry blossom tour.