Takeo Onsen and Ureshino are two fascinating little towns in Saga Prefecture. Famous for green tea and onsen hot-spring spas, they are typical of Kyushu. Historic, lots to see and do, but not crowded with tourists. We sometimes include them in our clients' itinerary so wanted to refresh our knowledge. Anyway, we always love the chance to escape the office and take a road-trip. We took this 2-day excursion with our accounting staff Noriko and her 10-year old son Bisma.
Let's go …
Ureshino
Ureshino is famous for two healthy things; green tea and onsen (read our what are onsen article if you're new to this). It's unusual these days to find something which is both healthy and fun so I was pleased this trip included two. We started with green tea.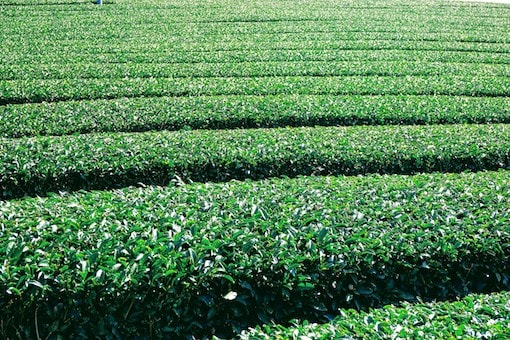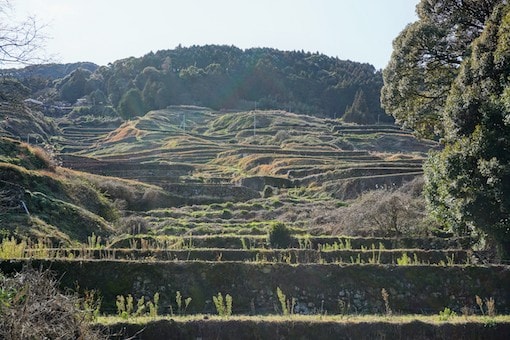 Ureshino Tea Exchange Hall (Chaoshiru)
Nestled amongst tea plantations is the oddly named, "Ureshino Tea Exchange Hall". Basically, it's a place to learn about, buy and drink good tea. We did all three. We took a green tea factory tour, a tea-making class and bought some excellent Ureshino tea. We also wandered around the history-of-tea and how-tea-is-produced exhibits. They were mostly in Japanese but there was enough English for me to follow. There is a nice cafe there too. You can have green tea and a Japanese snack while gazing at the in-house mini tea plantation. You get written instructions in English about how to properly prepare your pot of green tea.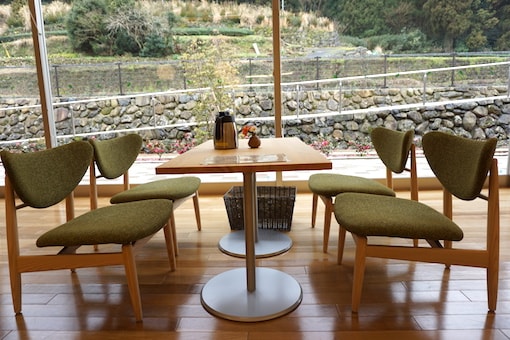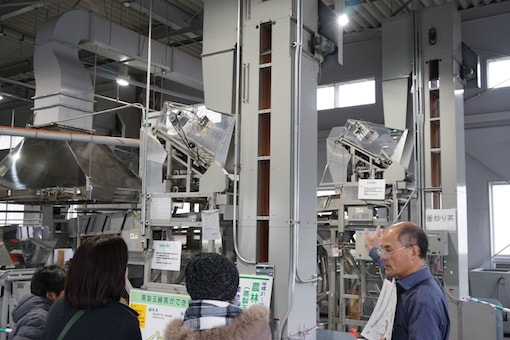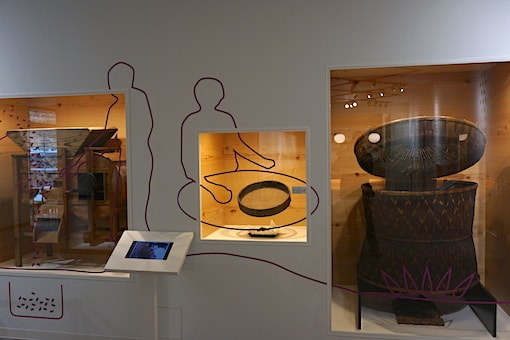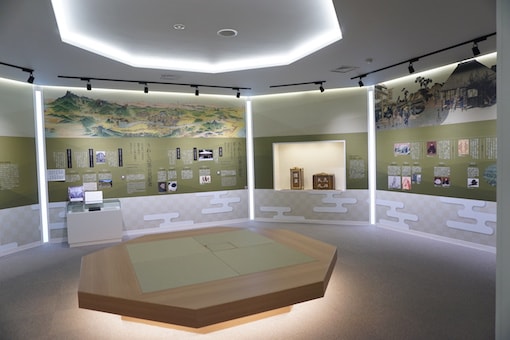 Ureshino tea making class
We drink green tea every day so couldn't resist the tea making class. The art of good green tea making is maximising the umami flavour and minimising the bitterness. The skill is using the correct amount of tea, with water at the right temperature, and brewed for the right amount of time. There were other tips too but I feel they are better coming from a sensei (teacher) than from me.
Our class was in Japanese but foreigners can join. The sensei said they manage with gestures, translation apps and determination. The difference between well-made tea and badly-made tea is very noticeable. If you drink green tea (or want to start) I recommend this class. It only costs a few hundred yen and you'll learn a lot. The sensei was knowledgable and delightful. You also get a little pack of Ureshino tea to take away to practice your new skills.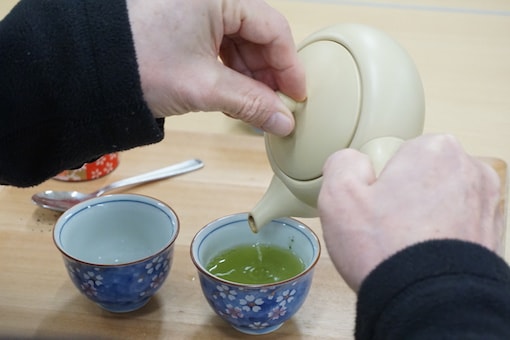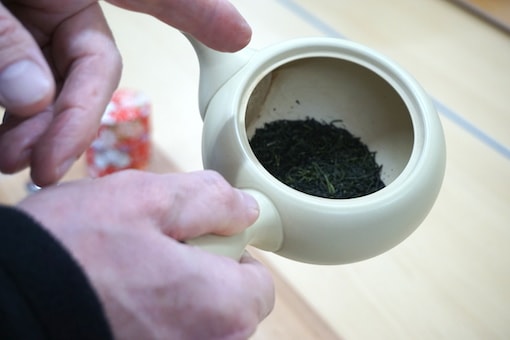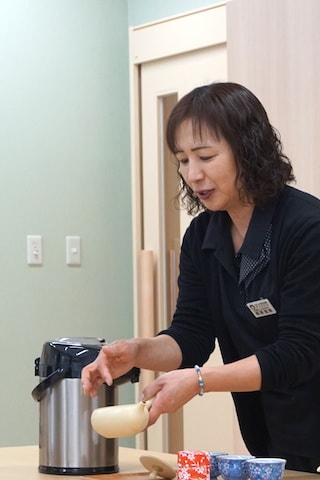 Ureshino tea shop
After all that green tea there was only one thing we needed. More green tea! Off we went to a tea shop that has been picking, processing and selling green tea for 100 years. We had drunk enough during the class so had green tea gelato instead. Noriko splashed out on some tea to take home to her mum. I can reveal she paid ¥1,600 for 100 grams (don't worry – her mum can't read English). Anything over ¥1,000 means it's best quality. It seems a bit expensive but you only need 3 grams per person. This works out at 30 cups per pack and compares well to the price of cocktails. It's healthier too. The staff gave us some good advice: store green tea in the freezer to preserve freshness but let it reach room temperature before opening. They had a beautiful 'hina' doll on display and I snapped the shot below.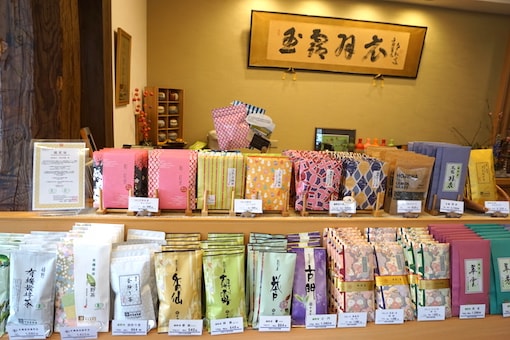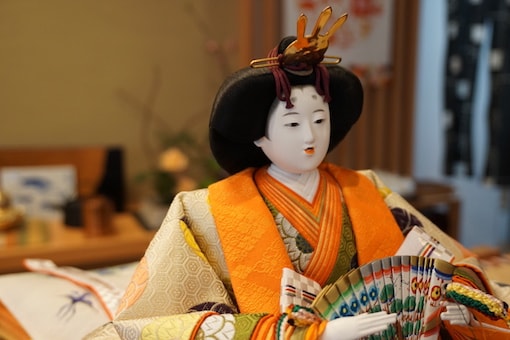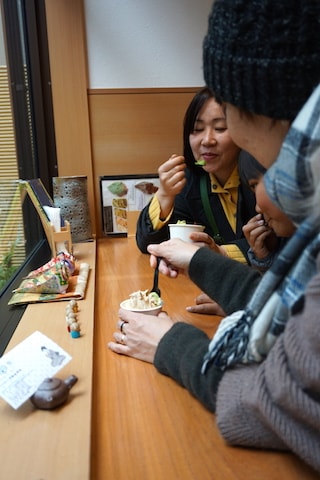 Ureshino onsen yudofu
We couldn't leave Ureshino without having the local specialty of 'ureshino yudofu'. This is tofu cooked in the local onsen waters. The tofu becomes soft and mellow as it reacts to the alkaline water. Unfortunately the famous onsen yudofu restaurant we planned to eat had a huge queue and only 9 tables. We were too impatient so had some in a sushi shop instead. I always try the local specialty food when I travel. The Japanese are very knowledgable about food and when you come back from a trip they always ask, "Did you have [name of local specialty]"? It makes you sound timid and unadventurous if you say no.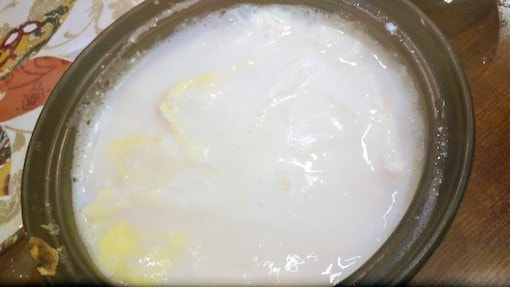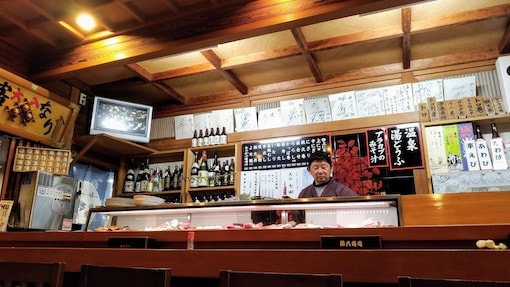 Takeo Onsen
As the name suggests, Take Onsen is famous for onsen. In fact these hot spring spas have been rejuvenating weary bones for 1,300 years. If it's good enough for feudal lords and samurai warriors, it's good enough for us. We checked in and (unlike samurai warriors) started Instagramming. The main building, Tower Gate and historic baths are wonderfully photogenic. The whole place oozes history. Following directions given by Moo's mum we discovered the monument erected by Moo's great-great-grandfather. And there, scratched into the base, we even found his stone signature! When our Instagram posts are long gone, his chiselled signature will still remain.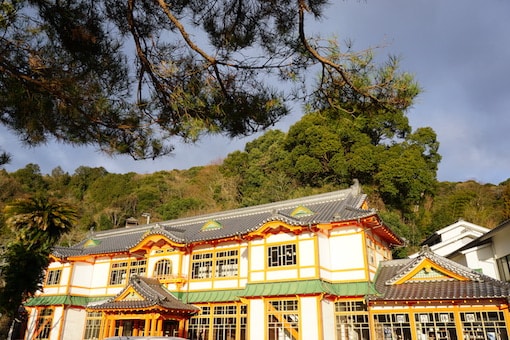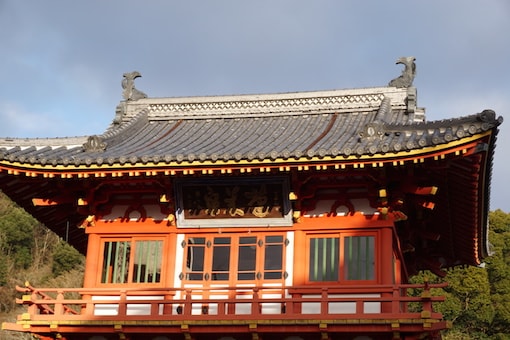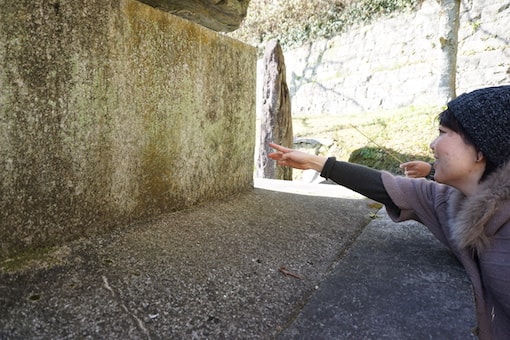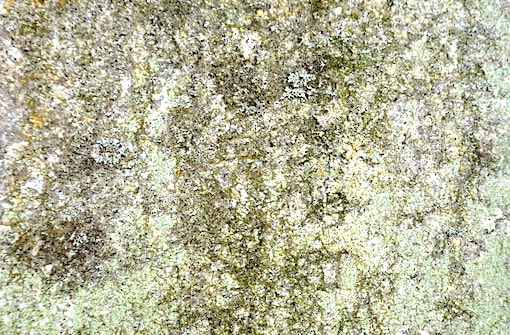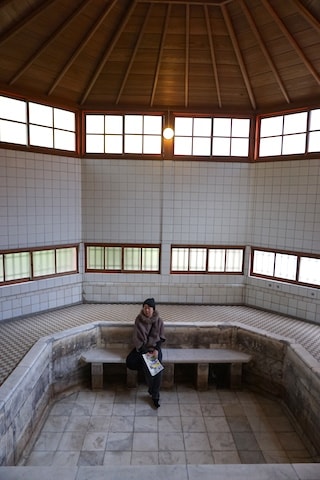 Hiryugama Kiln
In addition to a long onsen tradition, Takeo has an impressive history of pottery production. The first Takeo ware (Takeo pottery) was created in the late 1500's and there are 90 kilns today. We visited Hiryugama Kiln which is the largest 'climbing kiln' in the world. It is big enough to produce 120,000 cups in a single firing. As usual when we travel around Kyushu we couldn't resist buying some local pottery. We managed to limit ourselves to a set of chopstick rests. Takeo ware is homely practical pottery. It's known for its warmth, simplicity and unique patterns.
We didn't see any pottery in production because we went in the evening for a Valentine light-up festival. It was a chilly night but very pretty and lovers were all around. Me and Moo held hands (gloves actually).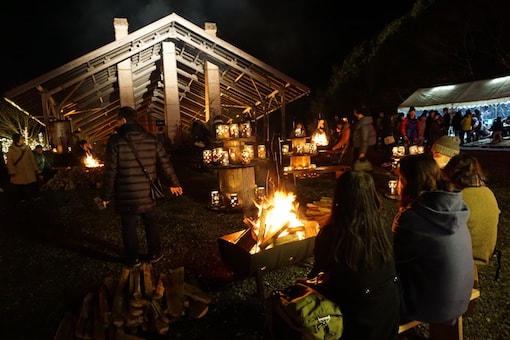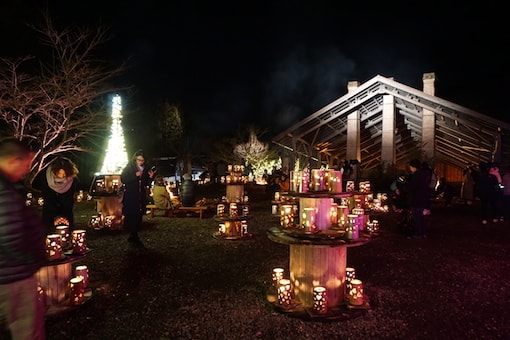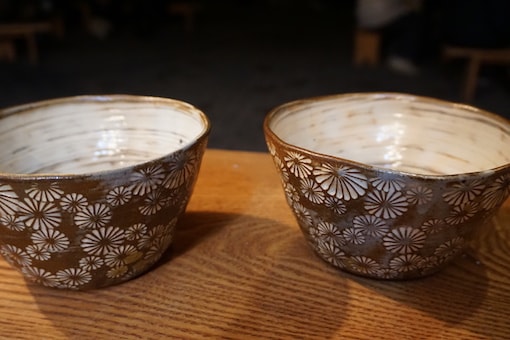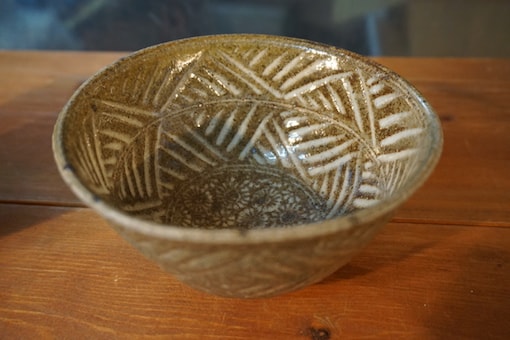 Takeo Onsen baths
There are three main public baths in Takeo Onsen. We stayed just one night so only managed to bathe in two. The onsen are always sex-segregated so I went in with Bisma. The one we visited before bedtime had a hot bath, an icy cold bath, an outdoor bath and a sauna. We hopped from one pool to the other and then slept like babies (Bisma is only 10 anyway). The one we visited in the morning had a hot bath and a hell-like bath. It was 46° Celsius (115° Fahrenheit) and smashed my temperature limit. I could hop in for no more than 10 seconds at a time. It wasn't just me. Most of the other bathers couldn't stand it either. A few old Japanese guys pretended to enjoy it but I think they were bluffing. Their lobster-pink skin told the true story.
It was a lovely historic bathhouse with old wooden beams and high ceilings. I was hoping for a nice long soak. Unfortunately it appears time travels at a different speed if you are 10. We had only just got in when Bisma said it was time to get out. I felt I couldn't leave him wandering a strange town on his own (though I was tempted) so we dried off and waited for the ladies. They took ages. Takeo and Ureshino are famous throughout Japan for the quality of the water. It's silky smooth (you can really feel it) and is said to restore beauty to skin. In fact Ureshino is regarded as one of the top 3 hot-spring waters for beautiful skin in Japan.
The photos below show us on the way to our daybreak bath. Bisma is standing in front of the ticket machine with the temperature of each bath displayed. You can see the yukata (dressing gown) and clogs we borrowed from our hotel. If you think it's hard to walk when you're drunk, try crossing a cobbled courtyard in clogs.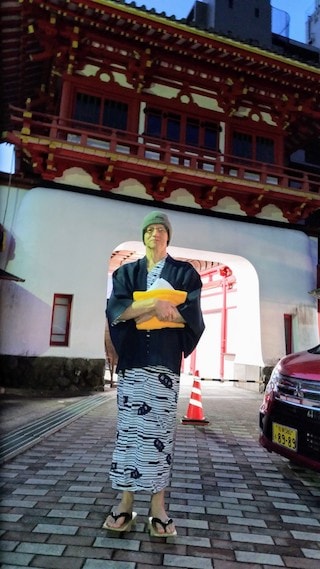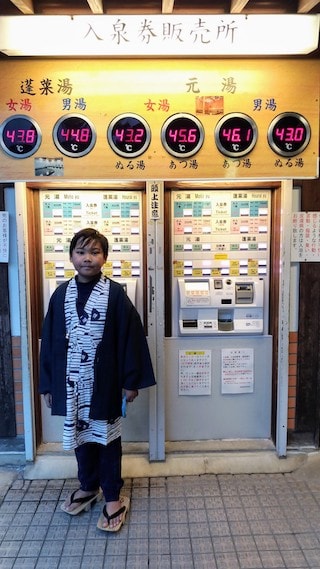 Takeo Shrine
After our bath, me and Bisma went to Takeo Shrine. The shrine is the oldest in Saga prefecture but just a baby compared to the giant camphor tree there. At 3,000 years this tree is one of the oldest in Japan. Look how huge it is! The steps look tiny compared to the tree.
As usual at Japanese shrines, worshippers hang good luck fortunes and write their wishes. In the photo below an anonymous worshipper wishes that Ryonosuke and Ako's child can be accepted. It hints of a dark family secret so hope they don't mind me gossiping about it on the internet. Bisma wanted to spend ¥200 on a lucky charm but I told him not to waste his money. If he wants his dreams to come true better just work hard. Is 10 too young to be cynical like me?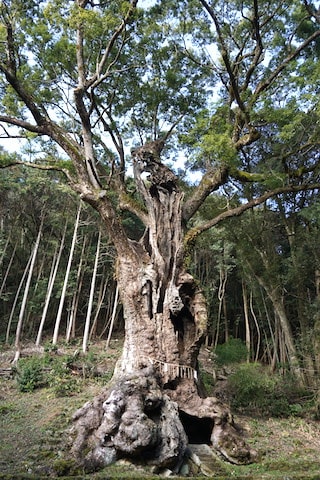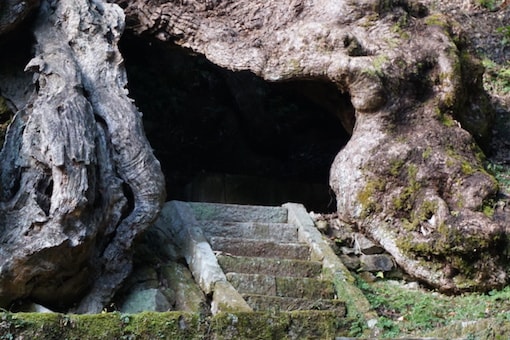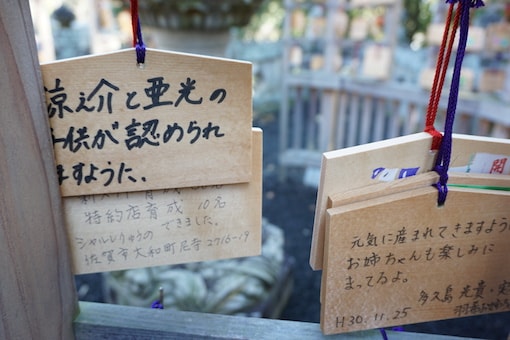 Mifuneyama Rakuen Park
We often include Mifuneyama Rakuen in our clients' itinerary so wanted another look. It isn't prim and proper like most Japanese gardens. It is a park that's had a chance to grow into a forest over 150 years. Get there at the right season and see nature dazzle. Azaleas and wisteria explode into colour. Thousands of cherry blossoms bloom in spring. The autumn light-up is a sight to behold. Unfortunately we went in February and it was brown and grey and the tea-house was closed. I liked the gang of Buddhas though and we almost had the whole park to ourselves.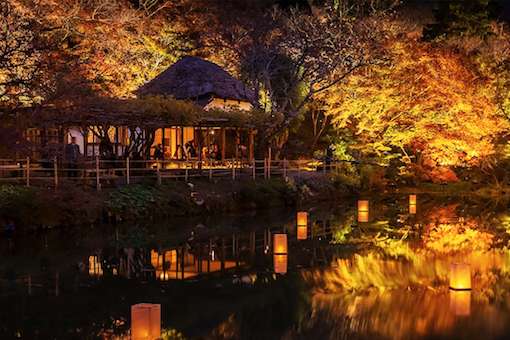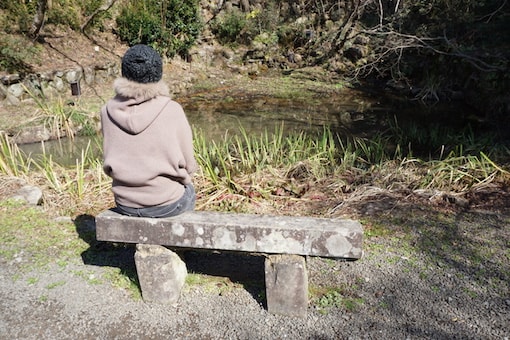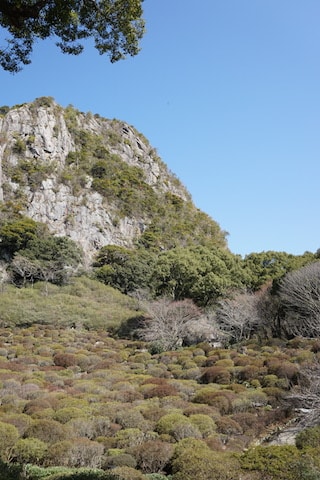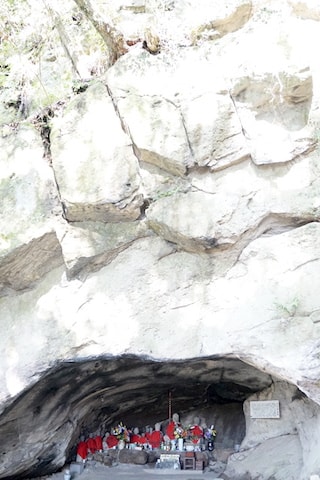 Plum blossoms
Nature always seems to be doing something nice in Kyushu. Cherry blossoms, wisteria and azalea in spring. Wild flowers in summer and the changing leaves of autumn. We were travelling in winter and the plums were starting to blossom. It was nice to see parents and kids enjoying the pinkish white flowers and the sunny weather.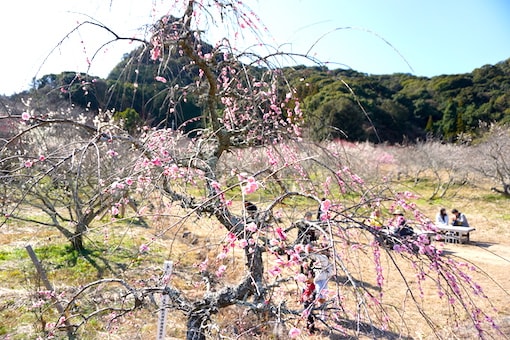 Sake Brewery Avenue
Sake Brewery Avenue ('Hizen Hamashuku Sakagura Dori') seems to linger in the past. This quaint old street is lined with traditional sake breweries and soy sauce shops. The quality rice and pure water have long favoured saké production here. You can tour a brewery and buy a prize-winning bottle. We made Bisma pose in a sake barrel and wandered down the almost deserted street. It felt good to end our weekend trip in such traditional Japanese surroundings.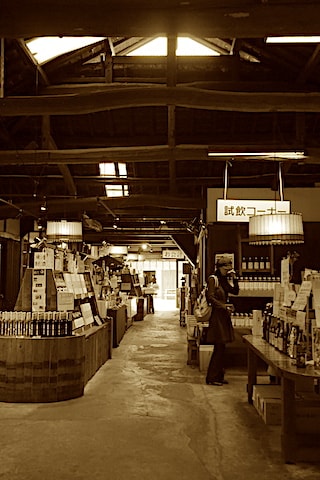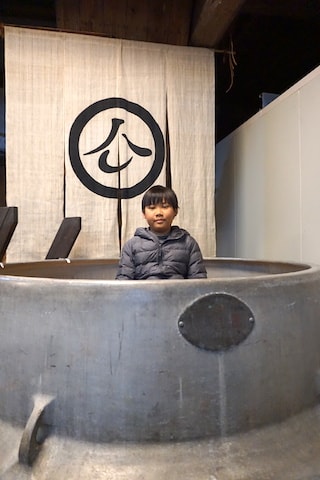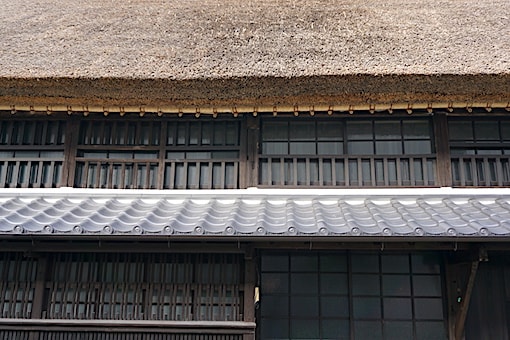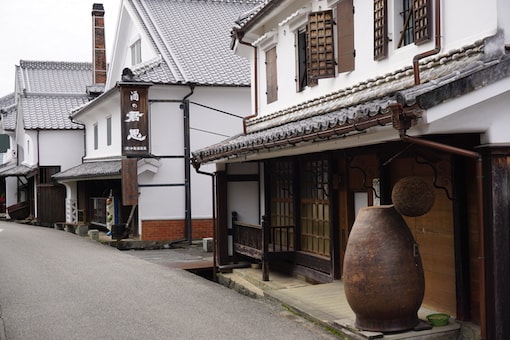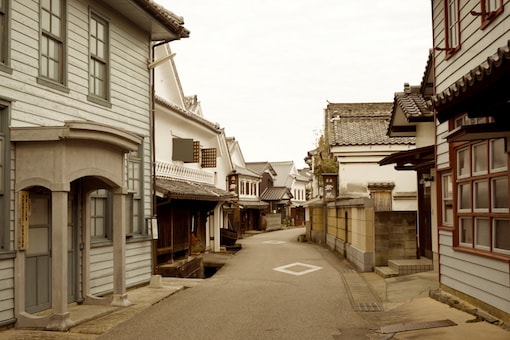 The Eel Man
Actually that wasn't quite the end of the trip. As we departed Sake Brewery Avenue, Moo suddenly shouted, "Stop!" I thought there had been an accident. In fact she had spotted someone grilling eel. He didn't have a shop. He just cooked in a roadside kitchen. It's Moo's mum's favourite dish so we had to buy one. The Eel Man told us these days he only cooked to order because eels have gone out of fashion (I wondered whose order he sold us). They are quite expensive so perhaps that is why they are less popular these days. We paid ¥3500 ($30) for one eel. You pay that price in a restaurant for one portion so our purchase was a good deal.
Finally then, everybody was happy. The two Japanese mums got presents ~ tea and eel ~ and we had a lot of fun. My mum lives in England so I felt excused from buying a gift (sorry mum).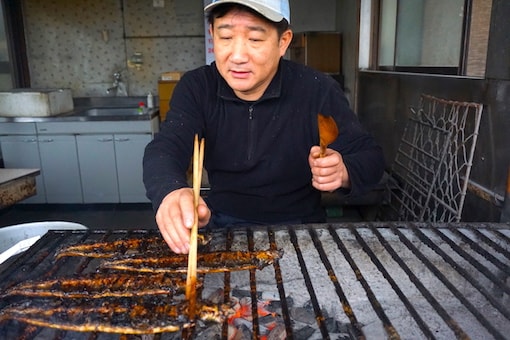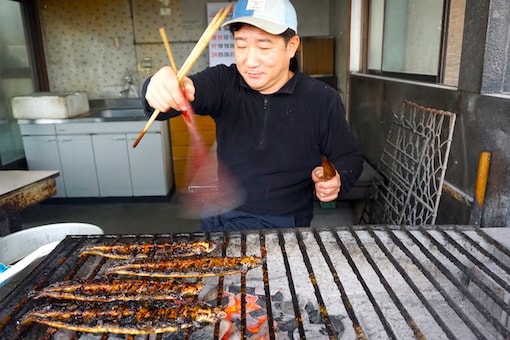 Final Thoughts
If you love green tea or onsen contact us and we'll arrange this kind of trip for you. You'll encounter a side of Japan most tourists never see.
Comments or Questions
Leave your comments below. We'll be happy to answer any questions. If you've travelled in Takeo or Ureshino add any tips, advice or information so other readers can benefit.