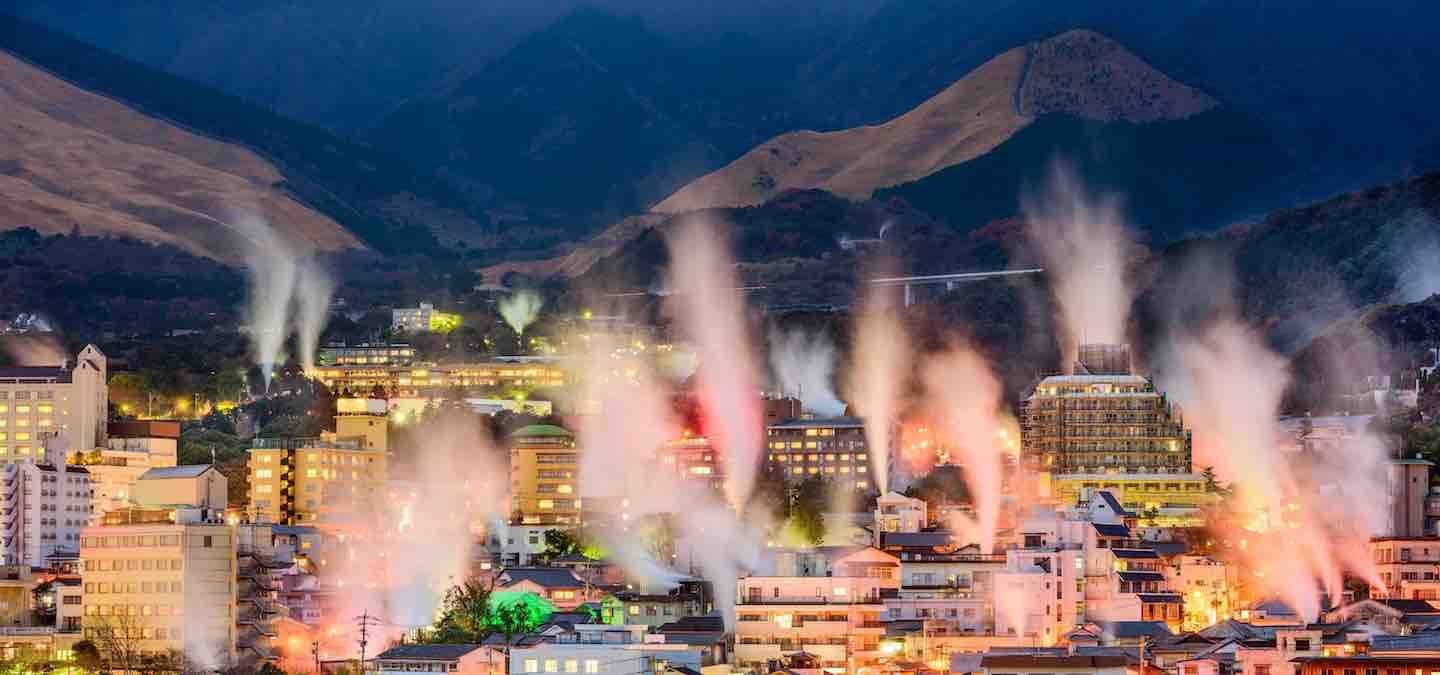 Kyushu is known throughout Japan as Onsen Island. The Japanese love them (so do I) and hopefully you will too. Read on to find out what an onsen is and why they're so popular.
What is an onsen?
Literally and simply, the Japanese word onsen (温泉) means 'hot spring'.
But don't think muddy pool.
The hot springs we are talking about are clean and well-managed. All of them are indoors (some with optional outdoor pools) complete with changing rooms, bathrooms and most with dining areas too. Many are inside luxury ryokan traditional Japanese hotels.
Why visit an onsen?

To relax, to rejuvenate, to pamper yourself and to heal. It's a unique and memorable Japanese experience.
Forget Disneyland, this is the real deal.
The Japanese have been indulging for generations and now it's your chance. No vacation in Kyushu is complete without a stay at a hot spring resort.
You'll come out relaxed and refreshed. Of course you'll be super-clean.
What's it like at an onsen?
Take a look at this video (it's just 3½ minutes long). It's a great introduction both to onsen bathing and to Kyushu itself.
Horses in Kumamoto, the forests of Yakushima, dance in Miyazaki, the volcanoes in Kagoshima, the steaming hells of Beppu, the lively nightlife of Fukuoka and the natural beauty of Saga.
You'll get a rare peek too into some of the best hot springs on the island.
Health benefits
It's really important (for me at least) that the water should come from a natural hot spring. You can find hot baths around Japan using heated tap water but this misses the point. All the onsen we include in your itinerary will be from natural hot springs.
Why?
Because water from natural hot springs has been known for generations to heal and rejuvenate.
The mineral-rich volcanic waters offer a wealth of health benefits.
They're not just large bath tubs. They have many positive health effects
Seiji Hori, Beppu Inns & Hotel Association
Two kinds of onsen experience
You can either stay overnight or visit on a day trip.
Staying overnight is a wonderful experience and it's our recommendation. You'll stay in a hotel and bathe in the spring inside the hotel grounds. We believe this will give you the most authentic and memorable experience. We'll match you with a traditional Japanese hotel (ryokan) to suit your budget. 
Taking a day-trip is great if you are time-challenged or on a budget. You can either visit public baths or you can bathe inside a hotel. Although not all hotels allow non-residents to enter we'll help find one that does.

Why do we recommend an overnight stay at an onsen (instead of visiting on a day-trip)?
It's the highlight of any Kyushu vacation. The traditional Japanese rooms, the exquisite service, the hot spring bathing and the unforgettable dining. Expect to be served dish after dish after dish. That's why at traditional Japanese hotels the room charge includes dinner and breakfast too. It's a whole experience.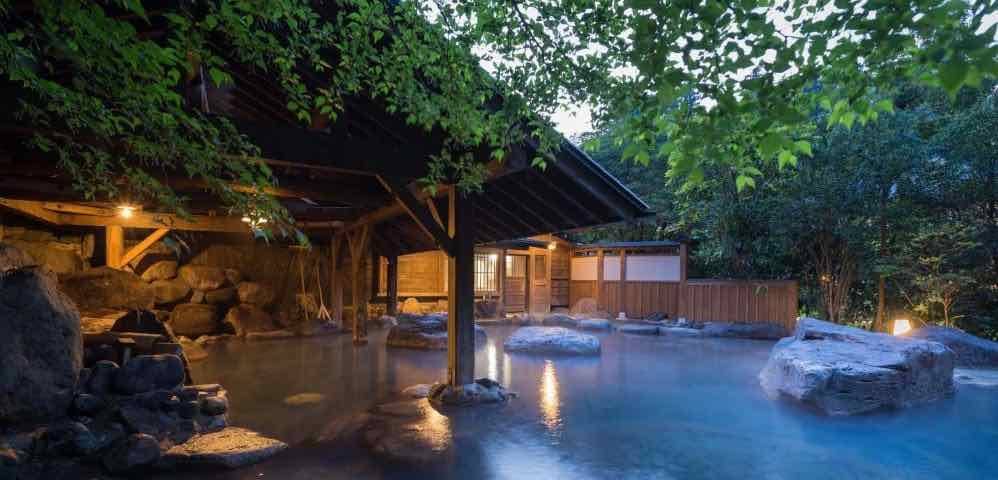 I prefer rotenburo.
It's the outside bathing area. I love it in winter. Escape the chilly air as you slip down into the steamy waters. If you are lucky you can enjoy a great view and be immersed in nature.
My favourite kind of onsen will have a mix of baths, both inside and outside. It's part of the joy of the bathing experience hopping from one bath to another. Perhaps there will be a warm pool, a toasty hot bath, one that's icy cold bath and steaming rotenburo amongst the trees. Take your time and enjoy the different sensations.
A lot of onsen will also have a sauna, massage pool and perhaps a salt sauna too (it's great for your skin!).
I always skip the electric pool (denkiburo) but you might want to give it a try. The mild electric current pulsing through the water produces a weird tingling sensation. They say it cures rheumatism, stiff shoulders and a sore back.
Got a tattoo? Read on ..
Believe it or not most onsen don't allow people with tattoos to enter. Tattoos are associated with criminal gangs (yakuza). However all is not lost. If you do have a tattoo and want to enjoy an onsen experience let us know at the start of the trip planning process. We'll find a workaround.
Family baths
Don't forget, you'll be bathing naked. There is no way around it. No matter how shy you are you can't bathe in your swimming trunks or in your underpants.
However don't worry, you have a small towel to cover your embarrassment.
Because it's a naked experience it's generally a sex-segregated experience. Girls with girls and boys with boys. 
But what if you want to enjoy your bath with your family or your partner?
No problem.
We'll help you find a resort with a 'family bath'. This is a small private bathing area which, as the name suggests, is perfect for families and for couples. You can lock the door from the inside and enjoy some private time together. It's great if you're travelling with kids too.
Not all hot spring resorts will have a family bath so if this is your preference let us know at the start of the trip planning process. We can include one in your itineraryfamily bath facilities.
The Best Onsen in Kyushu
Beppu
Probably Kyushu's most famous onsen area.
An impressive 10% of Japan's hot springs are found here. It's famous for the wide variety of mineral-rich waters with different chemical properties. You'll find a cure for most ailments if you search long enough. Don't miss the Hells of Beppu. Kids especially will love these eight boiling bubbling pools and their devilish stink.
Yufuin Onsen
Regularly voted one of the top three onsen resorts in Japan.
The spas here are nestled among nature. It's a tranquil, peaceful area. The Japanese love to come here to escape the hustle and bustle, to relax and unwind. Enjoy rotenburo (open-air bathing) with mountain views. It's a cosy little place. Take your time to stroll along it's main street lined with galleries, shops and cafes.
Kurokawa Onsen
Another lovely spa town in serene natural surroundings.
It's a quaint well-preserved place famous for its traditional Japanese architecture. If you love open-air bathing (rotenburo) this is the place to come. Don't be surprised to find people strolling around town in their traditional Japanese yukata (light summer kimono).
Tsuetate Onsen
This is our off-the-beaten track favourite.
You won't find many tourists there and it lacks the plush facilities of other more famous areas. We love it for the tranquil and leisurely pace of the town and the simple but quality hot baths. Our favourite has just been renovated and it's the hottest we've ever tried! Stroll around the traditional back alleys and don't miss the famous lucky charm bridge. Tsuetate Onsen is especially picturesque and photogenic during the Carp Streamers Festival in May. 

How to Onsen
Ready to take the plunge? Check out our how-to-onsen article to learn about the Do's and Don'ts and important rules of onsen behaviour.
Don't miss a trip to an authentic Japanese onsen on your trip. It's what Kyushu is famous for and may be the highlight of your holiday. Get in touch and ask us about an onsen vacation package now.