Everything you need to know about travelling Japan. Updated for 2022. FAQ, info and pro tips. Start planning your Japan trip. Ask questions or share your advice below.
Japan Travel FAQ
Do I need a visa to travel to Japan?
Probably not but you can check if you need a visa to enter Japan here.
Do I need travel insurance for Japan?
Yes you do. Medical care isn't free in Japan. If you have an accident or get ill you will probably need to show proof of insurance before you receive medical treatment.
If your holiday is arranged by us (Kyushu Journeys) we will ask for your insurance details before you arrive so we can help communicate with the hospital in an emergency. If you need medical treatment while you are in Japan contact us immediately. We will help find the nearest suitable hospital or clinic and liaise and translate on your behalf for no charge for the first two days of any hospitalization if the hospital is within Fukuoka prefecture.
When is the best time to visit Japan?
You can travel around Japan in any season. Spring and autumn offer the best weather. You get the bonus of cherry-blossom in spring, and autumn colours in (when else?) autumn. Perhaps the best month to visit Japan is May. The spring chill is gone, the heat of summer is yet to arrive and the crowds of cherry blossom season have departed. If you do come in May we recommend you avoid Golden Week (the first week of May). Golden Week is the busiest vacation season for Japanese travellers so hotels are expensive, trains are full and there are lots of traffic jams. Whichever season you are thinking of visiting Japan feel free to leave a comment below before you book your flights. We can help you avoid the dates when travel to Japan isn't advised. 
Can I bring my usual medicine into Japan?
Probably yes but note that Japan is stricter than most countries about bringing medicine. Take note of the following points:
•Dexamphetamine (and most other medicines related to ADHD and narcolepsy) are completely prohibited
•Products that contain Pseudoephedrine (such as Actifed, Sudafed, and Vicks inhalers) are completely prohibited
•Codeine-based products are completely prohibited
•All medicine should be in the original box or bottle
•If you are bringing prescription medicine into Japan you should bring a copy of the prescription too
•If you need to bring syringes into Japan please contact the Japanese Consulate in your country for advice before departure.
Is it easy to be vegetarian and vegan in Japan?
Japanese people love to eat meat and especially fish and seafood. However it isn't difficult to travel around Japan as a vegetarian. I did it for many years (although I'm a pescatarian now). You'll have a better vegetarian trip to Japan if you do some advance planning. It's much more difficult to be vegan in Japan although we recently took a 3-day 100% vegan trip. How easy you can travel around Japan as a vegan or vegetarian depends on how strict you are. Even basic noodle dishes (udon and soba) are made with fish stock. If you stay at a traditional Japanese inn (ryokan) your dietary requests will definitely need to be arranged in advance. Leave a comment below if you have any questions about visiting Japan as a vegan or vegetarian.
Is Halal food available in Japan?
Halal food isn't widely available in Japan. However with advance planning and research it is possible for Muslims to travel comfortably in Japan. Me and Moo lived for many years in Indonesia so we fully understand the requirements of Muslim travellers. If you stay at a traditional Japanese inn (ryokan) your dietary requests will definitely need to be arranged in advance. Feel free to leave any question below in the comments section.
What if I have any tattoos?
Many hot spring baths (onsen) and traditional Japanese inns (ryokan) strictly forbid bathers with tattoo. However tattoo-friendly onsen are slowly becoming more popular. It is also possible to find ways around these rules if you have a tattoo. Read our How to Onsen article for some tips and tricks about bathing with a tattoo in Japan.
Electricity and Adaptors
The voltage in Japan is 100 V (not 110 or 220 V like many other countries) and power sockets are Type A. Type A is used in USA and China so if you are from another country you will need to buy an adaptor.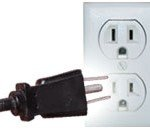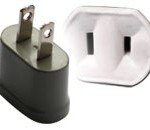 You need to buy an adaptor that allows your gadget to plug into Type A socket.
Note that Type B is also used in Japan but it is the same as Type A except there is an extra input for grounding. Therefore any Type A plug will also fit into Type B socket. Most electrical shops or convenience stores in Japan don't sell overseas to Japan converters so better buy adaptors you need in your home country.  However if you do need to buy them here they are available at Bic Sim in Fukuoka. I haven't found them at any other electrical shop in Fukuoka.
Japan packing tips (what to bring)
Try to bring as little as possible. You will probably be travelling on public transport where storage space is limited and it's very crowded. Make sure you can easily pull or carry your luggage. You don't need to bring formal wear. Casual-smart is fine even at the best restaurants. It's better to avoid scruffy-looking clothes. Coin laundry is widely available so you can recycle your clothes. You will often be shoeless so bring enough socks to avoid the embarrassment of pongy feet. Don't bring your old socks with lots of holes. Bring handkerchiefs! Some public bathrooms don't have any way to dry your hands, and in summer you'll need to wipe sweat from your face. In summer you'll need a sun hat too and in winter something wooly and warm. Umbrellas are more popular than raincoats in Japan. You can bring your own foldaway umbrella or buy cheap umbrellas almost everywhere. Don't choose your Japan trip to digitally detox. You'll need your phone for travel apps like Google translate and Google maps. Unless you are from the US you will need a power adaptor and you will probably want to bring a battery bank too. Japan is incredibly photogenic so bring a camera (or just use your phone like everyone else!). I almost added, "bring enough film" but that just shows my age. Unless you are planning to visit a friend you don't need to bring gifts from your home country. Most importantly bring a sense of fun and adventure. If you are here hoping to get the timing right for cherry blossom viewing bring some luck too.
Japan packing Pro Tip
Bring shoes that can easily be slipped on and off. You will probably have to take your shoes off and put them on again many times a day. Slip on shoes are much more convenient than fiddly lace up ones.
Luggage Delivery service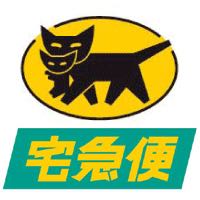 If you don't want to carry your bags around you can use a luggage delivery service. The biggest and best is Ta-Q-Bin operated by Yamato transport. You can get your luggage delivered from the airport to your hotel. You can also get it delivered from hotel to hotel during your trip. At the end of your trip, when your bags are laden with souvenirs, you can get delivery to the airport. The service is basically same day or next day delivery. This depends on what time the luggage is picked up and where you want it delivered. If you want to send your luggage from Fukuoka Airport the counter in the international arrival terminal is open from 9AM to 6PM (365 days a year). Most major hotels have contract with Ta-Q-Bin. Look out for the black cat logo in the lobby or ask the staff. If the hotel has a contract you just need to leave your bags for collection with the hotel staff. You can also look for the logo at convenience stores. Many 'conbini' (as they are called) have Ta-Q-Bin contracts so you can drop your bags there. The final option is to call Ta-Q-Bin directly to collect your stuff. Their English-language toll-free number is 0120-17-9625. It's a 24-hour number but the section to arrange collection is from 9AM to 6PM (365 days a year). They will pick up and deliver to/from any address in Japan. If you buy an enormous souvenir they also handle overseas deliveries. For prices and other info check here. The best option is to travel lite. But if you just have to pack that ball-gown and 50 pairs of socks Ta-Q-Bin is a reliable alternative.
Staying online in Japan
Can I get free WiFi in Japan?
Yes you can. There is free WiFi in a lot of places but it's not as common as you may be used to. Annoyingly the free WiFi in many cafes is restricted to users with phones using specific Japanese networks. All international hotels and most 'business hotels' (budget Japanese hotels) will offer free WiFi to guests. Starbucks (all branches) and McDonalds (some branches) also have free WiFi but what a pity if you come all the way to Japan and have to spend your time in these places.
Can I stay online with my phone in Japan?
Yes you can. We recommend one of the following methods instead of relying on free WiFi when you are in Japan. You will probably want to be online at all times so you can use apps like Google Translate and Google Maps. However don't forget to disable your work email and block your boss' messages while you are here.
If you have an unlocked phone you can get a data-only SIM. This means you can browse the net, check your emails and stay in touch using WhatsApp, Skype, Messenger etc


Getting a voice SIM card (to make phone calls) is a bit of a hassle so best avoided if possible. If you do need to make phone calls it's easier to rent a phone with voice and data SIM while you are here


Renting pocket Wifi is a good option if your phone is locked or if you are travelling as a group or family
If you use Kyushu Journeys as your trip planner we will explain the options in more details and an help you buy a data-only SIM, rent a mobile phone or rent a pocket WiFi unit.
Money in Japan
Can I use my credit card in Japan?
Credit cards are widely accepted but probably not as much as in your home country. You will be able to use your credit card in many places but you should always carry cash. Many hotels and restaurants still don't accept credit cards even in 2021! It may be surprising but in Japan cash is king. The good news is that usually there is no extra charge for paying by credit card.
There may be fewer ATM machines than in your country and many do not accept foreign cards. Surprisingly many ATMs are not 24-hour. Convenience stores are the most common place to find ATM machines that accept foreign cards and are open 24 hours. You may also find ATms with English menus in Post Offices.
Pro Tip
Inform your card company in advance that you will be travelling to Japan and make sure you know your PIN number. Tip: If your PIN number is more than 4 digits you may have problems using your card here. Check with your bank before departure.
Withdrawal limit
If you card has a chip the limit is usually ¥100,000. With a magnetic strip card the limit may be only ¥30,000. Any daily withdrawal limit set by your bank will override these amounts.
Should I exchange money before I travel to Japan?
You will probably get a better rate here than in your own country. You can change money at Fukuoka airport when you arrive. Please note however most money changers only operate from 8AM to 9PM. You can also find a variety of 24-hour ATM machines accepting foreign credit cards at Fukuoka Airport. For peace of mind on arrival day you may want to change some money into Japanese Yen in your home country, just in case. Don't forget to ask for some smaller denomination notes if you plan to take a taxi. You won't find money changers on every street corner like you do in Bali or other big tourists destinations. Most banks won't change money either. Bring as much of any major currency as you need together with your credit card to get Japanese yen cash withdrawals.
Best exchange rate in Fukuoka
The best exchange rate in Fukuoka we found is at this shop (Japanese website) in this location. Hakata Station exit 15. It's open 7 days a week from 10AM to 7PM. Despite this, if you ask my advice, I would say the best place is to change money in Fukuoka is at the airport. The difference in exchange rate probably isn't worth your time unless you are on a very tight budget or staying close by that shop.
Can I use travellers cheques in Japan?
We don't recommend bringing travellers cheques unless you research first specific places you can cash them.
Free to join: Kyushu Travel Facebook group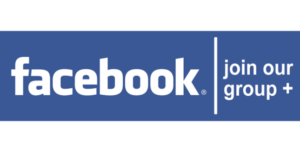 Be part of the Kyushu travel community. Share trip ideas and photos for Fukuoka and Kyushu (Japan). Ask questions if you're planning a trip. If you've been to Kyushu before (or live here now) share your knowledge and experience so others can benefit. If you love Japan travel, this group is for you.