What's so great about Fukuoka?
Well, it's known nationwide as one of Japan's nicest cities. The Japanese say it's sumi yasui (easy living).  That's what makes Fukuoka a great place to visit too.
Why?
If you have lived or travelled in Osaka or Tokyo you will understand. Those huge megacities for sure have everything you need but what a horror to live in and to travel around.
Fukuoka on the other hand is just the right size.
Fukuoka is big enough to have everything you need …
A crazy lively city center with a thriving, throbbing heart
… but not too big. I mean, not huge and overwhelming, not a monster city. It won't eat you up or drive you crazy …
The centre of Fukuoka has everything all in one place. It has one centre, one heart, big enough to give you everything you need but small enough to walk around.
You can reach just about anywhere in the city centre on foot or by a short hop by bus, subway or taxi. Nothing is too far and the mountains and the ocean are just a spit away.
Fukuoka: International and Cosmopolitan
The island of Kyushu has welcomed foreign visitors for centuries. When Japan was completely cut off from the outside world the one small gateway was into Kyushu.
What does this mean for you?
It means you won't be stared at, people won't avoid you and many people will be happy to chat. Heads won't turn as you pass by.
You won't be a freak-show.
What can I do in Fukuoka?
Lots to buy, lots to see, lots of things to do, to eat, to drink. Let's take a quick look …
Shopping, shopping and more shopping
Fukuoka is a great city to go shopping. Everything you want is here and in one place, in the center of the city.
You will find all the big brands next to the most traditional and exquisite Japanese handicrafts. 
You'll see things that are familiar but with a Japanese touch. The shops are modern and bright, and the shop assistants will treat you with unending courtesy and patience. Don't be afraid to ask for what you need.
My personal shopping tip (from somebody usually shopping-averse)

Take a trip to Tokyu Hands. I love it. I bet you can't go in and come out empty-handed. It's a great place if you are short of souvenir ideas. You'll find something you never thought of or something you didn't even know existed. From the latest electronics, to classy, to classic, to handy, to quirky. The word 'diverse' doesn't do it justice.
Have fun exploring electronic gadgets that aren't available at home yet (or are better here or cheaper here). Check out Bic Camera electronics superstore. Hint: Bic Camera has two stores selling different goods, just a few moments walk from each other.
Hakata Dolls
But why would you come to Japan and not buy a traditional Japanese handicraft? Fukuoka's most famous handicraft is the Hakata Doll. They are not just souvenirs but works of art. Delicate, beautifully coloured and intricate in detail. The Hakata Doll will be a unique and memorable treasure (instead of the usual tat) to take home from your trip to Japan.
Let us know if you want to buy one of these stunning items of craftsmanship (the art goes back 100's of years) and we'll point you in the right direction.
Canal City
No shopping trip to Fukuoka is complete without a trip to Canal City. It's Kyushu's favourite shopping center, a great place for kids and a haven for tax-free shopping. Who can resist a trip to the largest private development in the history of Japan (a mere $1.4 billion)?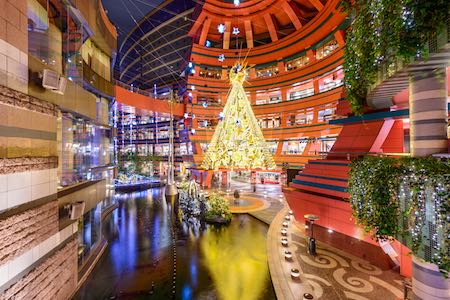 Fukuoka food: it's not just sushi
Perhaps more than anything Fukuoka is known for its amazing cuisine. I mean, even the Japanese think of food when they think of Kyushu.
Check out our article Food in Kyushu to get the lowdown on Kyushu's most famous dishes.
Kyushu is the birthplace of the Japanese noodle Ramen and you'll find the freshest seafood and the highest quality Japanese wagyu beef. Side-by-side you will find no end of traditional Japanese restaurants and the finest dining establishments to rival anything in Tokyo, Europe and North America.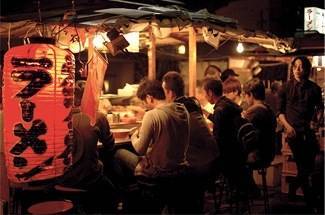 Food Stalls
You can't come to Fukuoka without trying at least one Yatai (food stall). Fukuoka Yatai are famous throughout Japan and you'll find them along the river at every time of year.
In winter they are steamy warm and in summer with the sides opened up, they will be open and breezy.
You can find every kind of food depending on the stall. My advice is to stick to the Japanese favourites. You won't find a more authentic bowl of Ramen anywhere in town. It's a great place to grab a bite, have a drink and get up and close with the locals.
Food in Fukuoka: 30 seconds to make you hungry
Fukuoka after dark
The nightlife in Fukuoka is not to be missed. For the drinker, the stroller or the eater you will find everything you need and much much more. 
It's crazy, lively, fun and safe.
From the most extravagant well-lit and lively bars to the small and intimate Japanese nook. Whatever your drinking habit you will find the best of it here.
The locals usually head to Nakasu (see photo top of this page). It's famous for being one of the largest red-light districts outside of Tokyo. Despite this it's a wonderful place to simply stroll around. Take in the lively neon-lit atmosphere and get the feel for a real Japanese nightlife area. Stop in one of the many bars for a glass of sake (Japanese wine) or shochu (Japanese whiskey). Kyushu is well known for its breweries and distilleries and you will always find the local production riding high in the international awards.
Hint (from my drinking days): Iichiko (いいちこ) is a good, reasonable-priced shochu found in most bars.
After you've had a drink stroll to the riverside area and enjoy the many yatai food stalls and local restaurants.
Fukuoka has long held the reputation as one of Japan's coolest cities 
Jack Heslehurst (Japan specialist writer)
The younger crowd will head straight to the excellently-named Oyafuko-Dori ('the street for children out of parental control'). It's lined with some of the hippest and wildest clubs around. You'll find Hip-Hop, Jazz, Trance, Techno and a ton of expat bars. It's been wild as hell since I first lived in Fukuoka 20 years ago and hasn't tamed since. Just don't take your dad.
Once again, the really great thing about Fukuoka is that it's just the right size. Start your evening in the heart of the city and you won't need anything but your legs to get around. Forget the queue for the train or the bus or hunting down a taxi.
Stroll around.
That's the really great thing about nightlife in Fukuoka. You can go out for the evening without anything specific in mind.  Just walk along the riverside entertainment quarter and see where the evening leads you.
Your Kyushu itinerary will start and end in Fukuoka. It's a lovely city and a great place to spend your time. Contact us now and get your holiday moving.