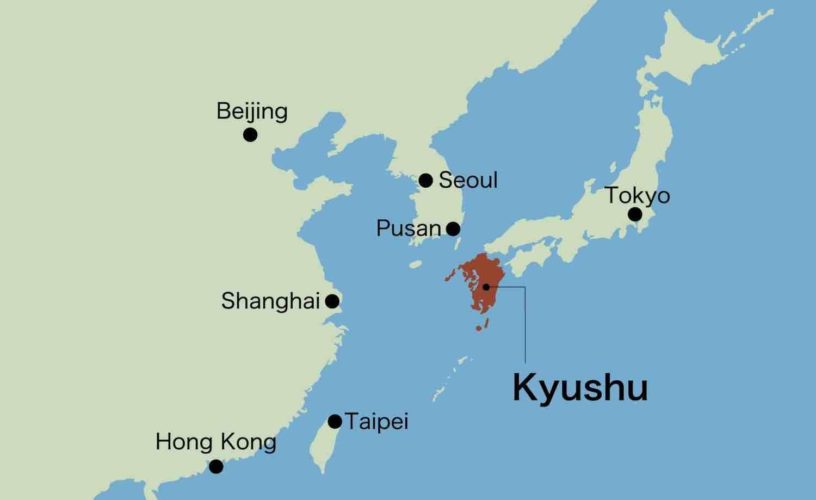 Rugby World Cup: Kyushu fixtures, venues, maps, stadiums and transport
The Rugby World Cup (RWC 2019) is coming to Kyushu. Everyone here is very excited. Some of the biggest teams are going to be in town and masses of their supporters too. A mind-boggling 1.8 million tickets are expected to be sold and already 4.5 million people have applied for tickets. The stadiums are being readied and travel plans are (hopefully!) falling into place. Half a million fans from overseas will descend on Japan. An army of 13,000 volunteers will assist.
The tournament is being held throughout the length of Japan. It ranges across 12 stadiums covering nearly 2000 km from Sapporo in the north to Kumamoto in the south. The lucky few will be heading to Kyushu. One of Japan's four main islands, Kyushu has a pleasant climate and a warm, hospitable people.
Largely untouched by modern city development and western tourism, Kyushu retains olden authenticity. Its appeal is in the natural beauty; hot springs, gorges, volcanic mountains. There is a slowness here, long ago lost in Tokyo, Yokohama and Osaka.

Escape Magazine
Latest information for RWC in Kyushu
Transport to stadiums (updated August 2019)
For Oita and Kumamoto you are prohibited from driving to the stadiums in a private car. Each venue has a shuttle bus and park and ride scheme. See details below in venue information. If you want to take a taxi to the stadiums we suggest you reserve soon (contact us). As usual in Japan expect to pay ¥10,000 or more per hour.
Updated September 2019
Latest official info about getting to Kumamoto stadium for rugby world cup matches. It's a long complicated read so grab yourself a coffee first.
Taxi to Oita stadium
For Oita stadium taxis cannot drive to the stadium. The closest they can drop you is about 10 minutes walk away. After the matches, there will be taxis picking up from Oita stadium but you will need to queue. Annoyingly, pre-booked taxis cannot pick up from the stadium. You will need to take the shuttle bus from Oita stadium to Oita station and meet your taxi driver there.
Taxi to Kumamoto stadium
Taxis can drop passengers a short walk from Kumamoto stadium. Other than this we are still trying to find clear information. Watch this space or follow us on Facebook.
Accommodation in Oita (updated August 2019)
The most convenient place to stay for the rugby matches in Oita is obviously in Oita city itself. The next best option is Beppu because there will be a shuttle bus running to Oita stadium both from Oita station and from Beppu station (see details below). If you can't find accommodation in Oita or Beppu (or other nearby towns) you can check if there is anything still available in Fukuoka city.
Train travel back after the matches (October timetable)
The new JR train timetables for Kyushu have just been released (August 24). The good news is there are late trains on match days back from Oita station and Kumamoto station to Fukuoka. Here are the last train departure times on match days:
Oita station to Hakata station (Fukuoka)
October 02 (19:15 kick-off): last train departs 00:30
October 05 (14:15 kick off): last train departs 21:43
October 09 (18:45 kick off): last train departs 00:30
October 19 (16:15 kick off): last train departs 23:36
October 20 (16:15 kick off): last train departs 23:36
Kumamoto station to Hakata station (Fukuoka)
October 06 (16:45 kick off): last train departs 23:17
October 13 (17:15 kick off): last train departs 23:17
These are the latest trains running on each RWC match day in Kyushu. To find times of all trains running on these days, take a look on Google Maps.
How to make advance reservations for train in Kyushu
I've had a lot of people emailing about this, especially about travelling to/from Oita-Fukuoka, so here goes:
If you have a JR Kyushu Pass you can make a reservation online up to 1 month in advance here for ¥1,000 per ticket. Unfortunately if you have Japan Rail Pass you cannot make online reservation.
If you have a JR Kyushu Pass or Japan Rail Pass you can make advance reservation at any major railway station in Japan with no charge. This means you can make reservations for all your train journeys on your arrival day in Japan.
If you don't have any rail pass but plan to buy your tickets individually you can make reservations one month in advance here.
If you have any questions please ask in the comments section at the bottom of this page instead of contacting me directly. This is because I'm getting a lot of similar questions so better they get answered in the comments section so others can benefit. Feel free to add your tips or advice too.
As a Brit myself, owner of Kyushu's leading travel agent for English-speaking visitors, I'm excited as hell (click here to see how we can help you). Wales are playing here twice here in the first round (October 09 and October 13) and luckily I managed to grab myself a ticket to see Wales vs Uruguay. We don't doubt they will be here again as winners or runner-up of Pool D (October 19 or 20). England will hopefully be coming to Kyushu as the winners or runner-up of Pool C (October 19 or 20). In fact England and Wales could be facing each other in what would be an epic game in Oita Stadium. This assumes that England do better than one of the big guns of Argentina or France in their qualifying group. Remember, only two of the five teams in each pool will make it to the knockout rounds.
Everyone here is thrilled that England have chosen Kyushu for their pre-World Cup training camp. They were one of the first teams to decide where to base themselves and they cannily opted for Miyazaki. It's a lovely surfing and seaside resort nestled at the foot of picturesque mountains. I guess they're planning for some R&R amid their training. The All Blacks will also have one of their camps in Kyushu. They've chosen Beppu, presumably to soothe their tired muscles. Beppu is one of Japan's top hot-spring resorts with waters that cure stiffness and strains amongst other things. The Welsh team will be based here too, in the city of Kitakyushu. They are doing some nice community work there. They coached 600 kids on a recent trip and helped up-train 50 local coaches. The collection will be complete with Scotland basing themselves in Nagasaki. It's a Brit invasion!
Rugby in Kyushu and Japan
Kyushu is generally considered to be at the heart of the rugby scene in Japan. High-school rugby tournaments are a big thing in Japan and Kyushu schools are dominant. Ask any local about Higashi Fukuoka High School. They will proudly tell you that they have won the national championship six times in the last 11 years. This preeminence extends to Kyushu's university clubs and professional rugby teams. You can expect an informed and passionate crowd here.
It has to be said however that Japan are very unlikely to be the team lifting the William Webb Ellis Trophy at the end of the tournament. With a brave heart the Brave Blossoms (as they are known) may get through the pool and into the quarters. They would need to beat Ireland or Scotland along the way. They recently managed to score 5 tries against the All-Blacks so shouldn't be dismissed lightly. Home support may roar them onto something special.
List of all Kyushu fixtures for 2019 Rugby World Cup (RWC)
Fukuoka
September 26
Italy vs Canada
October 02
France vs USA
October 12
Ireland vs Samoa
Oita
October 02
New Zealand vs Canada
October 05
Australia vs Uruguay
October 09
Wales vs Fiji
October 19
Winner Pool C vs Runner Up Pool D
October 20
Winner Pool D vs Runner Up Pool C
Kumamoto
October 06
France vs Tonga
October 13
Wales vs Uruguay
RWC Ticketing Information
You still have a chance to buy a ticket. The latest ticket sales window opened August 10. You need to register here first and then you can check availability for each match. This is the final chance to buy tickets so if you plan to attend I suggest you head to this site ASAP. Start early! There is usually a long waiting period on this website as you are automatically added to the queue.
I'll update here and our Facebook page if any more RWC ticketing information becomes available.
Each country will have its own official site selling tickets too. If you are an England fan, very optimistic, and have four grand to spare you can get a ticket for the RWC final here. Unfortunately your £4,000 doesn't even include the flight! If you have £22,495 to spare you can get a package for all England matches.
Useful info
The British Embassy in Japan have created an info page for UK travellers. You can find more detailed information on our Japan Travel Tips page. Other stuff you might find useful includes our Beginners' Guide to Onsen and a more practical page How to Onsen (do's and don'ts). Those planning to rent a car and self-drive can't miss our Everything You Need to Know About Driving in Japan page.
JNTO (Japan tourism) have created their own RWC website here.
Lovers of beer and rugby (that's all of you, right?) don't miss the pop-up rugby bar running during the tournament. It's located in Tenjin's infamous Oyafuko-dori (wonderfully, this translates as 'children out of parental control' street). Managed by Luis Matos, the 'King of Fukuoka Nightlife', it will show all of the matches live. Details and contact here.
Staying online during RWC
We have teamed up with one of Japan's top SIM-card providers. They use Japan's biggest mobile network. I've personally tested this SIM-card myself. Check out their Rugby World Cup SIM-card package. You can collect the SIM card on arrival in Japan or have it sent to your home address worldwide for free.
Questions about RWC
If we missed anything ask your question in the comments section at the bottom of this page.
Thanks for your feedback
We appreciate the time some of you took so express your thanks (see below). If you found our information and advice helpful, feel free to leave us a quick review. It just takes a few moments but helps us a lot.
Facebook rating: Click here
Google review: Click here
I would like to take this time to thank you for all the help and information you have been supplying us rugby fans regarding the rugby world cup. I have contacted many people asking for help or information, with either no replies or very little help. If I should happen to bump into you in Fukuoka I will certainly be buying you a beer – or Saki, or any drink you fancy – well deserved. Thanks again, Clive

I am just writing to say thank you. Myself (70) & my daughter (28) are coming to Japan for RWC. I have to say that your site packs in more useful information than most others put together. I am only sorry that we are not now in a position to put any money your way, many thanks, Mike & Nina 
Kyushu stadium map 2019 Rugby World Cup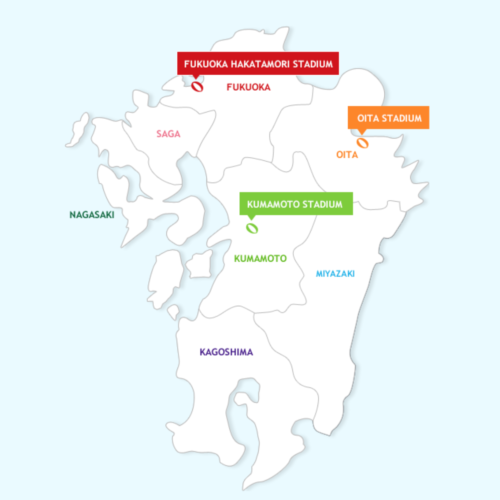 Kyushu stadium information for 2019 Rugby World Cup
Fukuoka Hakatamori (aka 'Level Five') Stadium
The City
Fukuoka (福岡) is the main city in Kyushu and the 8th largest in Japan. It has a population of about 5 million. You will almost certainly arrive in Kyushu here either at the international airport or by train from another part of Japan. It's generally regarded by both Japanese and foreigners alike as one of Japan's most pleasant cities. You can read more about it in our article here. Fukuoka is a city with a strong rugby pedigree and many of Japan's best rugby players hail from here.
The Stadium
Nothing wrong with it as a stadium but it has mixed memories for me. I've sat there too many times watching our local football team (Avispa Fukuoka) getting beaten. They were eventually relegated to the second division from where they've yet to emerge. It has a capacity of  22,500. At least we'll be getting better seating courtesy of the Rugby World Cup and giant screens. Ireland will be playing an as yet undecided play-off winner here on October 12. We'll also see the Italians, French and Americans here.
Access
The stadium in Fukuoka is incredibly convenient to access. You can easily get here by bus or taxi from the main areas of Fukuoka. In fact if you are flying in from another part of Japan it's just a 30 minute walk from the airport domestic terminal. How convenient is that!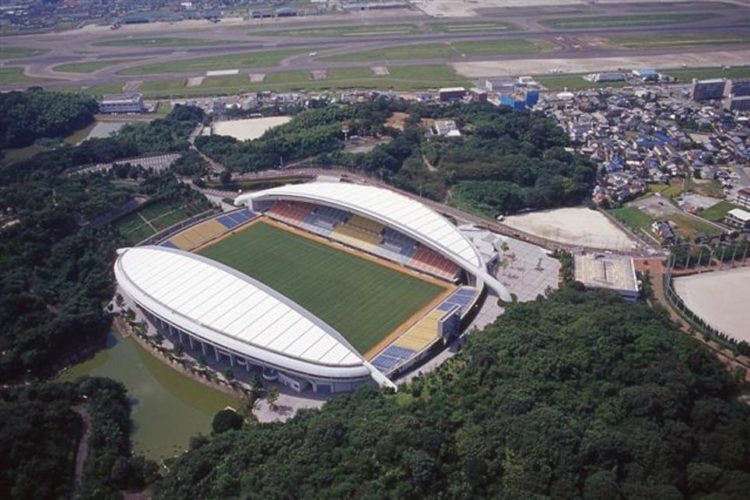 Oita Stadium (aka 'Big Eye' or 'Dome')
The City
Oita (大分) has a population of about half a million and is bordered by mountains and pleasant countryside. Located on the coast it is well-known for its seafood. Just 15 minutes outside the city centre you will find one of the world's largest troupes of wild monkeys. They live undisturbed but come down to be fed and photographed by people like you and me. The prefecture of Oita has more natural hot springs than anywhere in Japan. The nearby city of Beppu is one of Japan's most famous hot-spring (onsen) resorts. Oita is home to the impressive Usa Jingu shrine and on October 04, 08 and 10 the local city tourist office are running a free bus tour from Oita Station. Details here.
The Stadium
Oita Stadium is going to be a treat both for players and spectators. The athletics track will be gone (always loathed in whatever ground by rugby and football supporters alike). An extra 8,000 seats will be in place giving an impressive 40,000 capacity. It'll be repainted and a big screen will be installed. The retractable roof can be closed in 20 minutes. In a welcome sign of the times Oita Stadium is completely wheelchair accessible. Those of you who know your architecture will recognise it as representative of the Japanese Metabolist Movement.
Access
Oita train station is about two hours by train from Fukuoka. You'll travel on the ultra-stylish sonic train operated by JR Kyushu. After arriving in Oita there are several options to get to the stadium. Driving a private car to the stadium is prohibited but you can take a taxi. Personally I worry there won't be enough taxis, or at least there will be loooong taxi queues. Park and ride is an option but requires advance reservation. Perhaps the easiest way to get to Oita Stadium to watch the rugby is by shuttle bus. Take a look yourself at the latest information about how to get to Oita Stadium on match days. You can also read the Oita Stadium match day FAQ.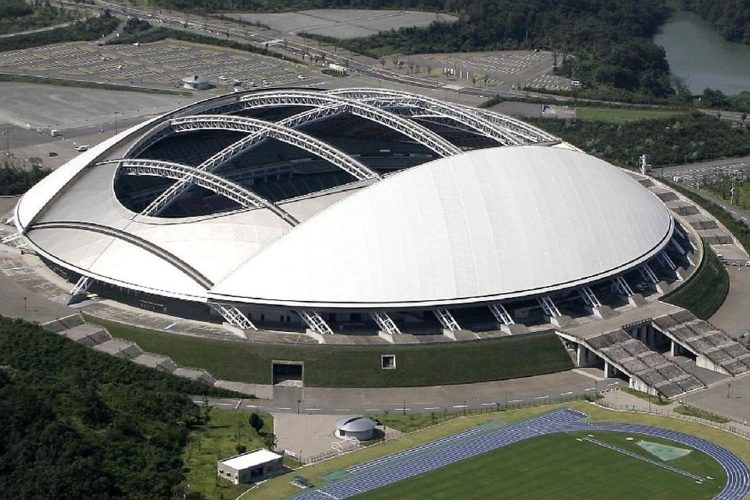 Kumamoto Athletics Stadium
The City
Kumamoto (熊本) is home to about 700,000 people. Its major landmark is the impressive Kumamoto Castle. In 2016 Kumamoto was hit by a 7.0 earthquake leaving 50 dead and 1000's injured. It's well on the way to recovery now but the castle was quite badly damaged. Reconstruction is expected to take decades. Kumamoto is home to the excellent 'Suizenji Japanese Garden' (aren't all gardens here Japanese?) where you can dress up in a kimono if the mood takes you. Not sure how many rugby fans will avail themselves of this service. Raw sashimi horsemeat is a local speciality. It's twinned with Bristol (UK).
The Stadium
It has a special place in the heart of the local community because it was used as a shelter and relief distribution centre after the big earthquake. The stadium is easily recognised by its iconic towering floodlights and will be benefiting from brand new turf. Anticipating the masses from the valleys (the Welsh will be playing here) an extra 10,000 seats are being added giving a total of 32,000. 
Access
Kumamoto Station is on the main shinkansen bullet-train line. This means you can take a direct train from Fukuoka and be in Kumamoto in 45 minutes. A bullet-train ride is an unmissable part of any Japan trip. After you arrive in Kumamoto you will need to decide best way to get to the match venue. Driving a private car isn't allowed so you can choose Park and Ride or Shuttle Bus options. Both options require advance reservation. Read more about details of transport to Kumamoto Stadium for the rugby.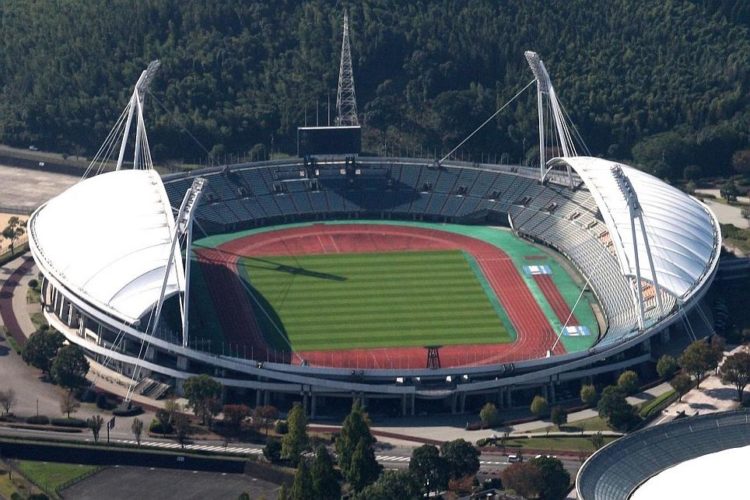 Travelling between stadiums: important info
The 2016 earthquake damaged the central Kyushu rail network. Both lines running east-west (Kyudai Line and Hohi Line) are currently out of action. There is no confirmed date for repairs to be completed. Therefore currently the best way to travel from Kumamoto Stadium to Oita Stadium is via Hakata Station in Fukuoka. You can see from the map it's the long way around but it's the quickest route. You can take a bus from Kumamoto to Oita but it takes 4.5+ hours.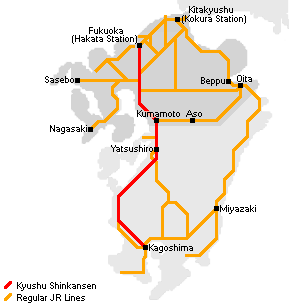 How can we help you?
You can't come all this way and just watch rugby. There's so much to see and do here. 
Let us plan your itinerary on Kyushu
You'll need to source your match tickets yourself (see 'ticketing information' above)
After that, we can:
Book hotels to match your budget 
Plan your transport (choose self-drive or travel by trains) 
Make your sightseeing arrangements (best things to do, places to go, sights to see)
It means we do all the work, you have all the fun! Just source your match tickets, get yourself to Kyushu, then we do the all the rest. We'll help you maximise your time on Kyushu. No need to waste time between matches. We'll make sure you see the best of Kyushu while you are here.
Take the chance to explore Japan's most amazing island
Things to do in Kyushu
Bursting with history, natural hot springs, active volcanoes, breathtaking mountainous views and some of the most hospital people in the country, Kyushu is a breath of fresh air from the hustle and bustle of Tokyo and Kyoto.

Katrina Turrill
Travel writer
The great thing is that Kyushu is pretty small so it's easy to get around sightseeing. The railway system in Japan is second to none. If you prefer to be in control you can rent a car or scooter and self-drive. We drive on the left here too (apologies to our friends from Europe and the States).
Visit one of the Kyushu festivals happening during RWC
Find information and details here of every Kyushu festival ('matsuri') taking place during the Rugby World Cup. There are some unique and amazing events happening and visitors are always welcome!
Don't miss the chance to try an onsen while you are here
Kyushu isn't nicknamed 'Onsen Island' for nothing. It's a natural hot-spring spa and there's no better way to relax and unwind. Learn what it's all about on our onsen introduction page.
Do onsen inside a traditional Japanese hotel (ryokan) for the ultimate experience
The service you can expect at ryokan is legendary. The kaiseki-ryori (traditional multi-course cuisine) is exceptional. Round it all off with a good night's sleep on a futon bed in a straw tatami-floored room. It's hard to imagine a more uniquely Japanese way to spend 24 hours. We took some pics and wrote up our recent stay at a ryokan in Kyushu.
Visit one of Kyushu's famed pottery villages.
Many of the kilns have been continuously in production for 100's of years. They have served Kings, Emperors and feudal lords. Now you can pick up a plate, a bowl or a mug. The famed blue and white of Arita-ware is exported worldwide and is a byname for ceramic quality. See how they are made and pick up a bargain. Pass by the Kyushu Ceramic Museum and enjoy a cake in the cafe served on a 250 year-old plate. Check out our recent trip to the pottery villages to see what it's all about.
Explore the Sea of Clouds at Kyushu's most scenic gorge.
What exquisite timing you have! This wonder of nature is seen from mid-September to November at the breathtaking Takachiho gorge. Climb above the clouds, hike around and row a boat in Kyushu's most scenic region. In fact it's almost exactly halfway between the stadiums of Oita and Kumamoto.
Delve into Japan's rich and fascinating culture.
Marvel at the intricate beauty of exquisite Japanese Gardens. Stroll around 1,000 year-old temples, ancient castles and lively shrines. Watch a centuries old traditional dance. Take the chance to experience prize-winning Wagyu beef. Enjoy sushi the way it's meant to be. Grab a bowl of Fukuoka's famed pork-broth ramen at a riverside food stall. Raise a glass of one of Kyushu's award-winning sakés.

We hope you found this information about the Kyushu matches of the Rugby World Cup 2019 useful. If you have any general questions leave them below in the comments section. I'm on the ground here and will be happy to help. If you want us to plan your Kyushu itinerary get in touch now.