Forget the crowded trains. Skip carrying your luggage around. Don't be a slave to timetables.
Hit the open roads and enjoy the freedom of Kyushu.
Become the Master of your own schedule.
Take the headache out of planning with our unique and inexpensive trip planning service.
Discover how a relaxing self-drive holiday in Kyushu is just a few emails away. Get started right now or read on for details and FAQ.

About Kyushu
Discover the essence of Japan.
One of Japan's four main islands, Kyushu has a pleasant climate and a warm, hospitable people. It's long been famed for its food, its hot-springs and the beauty of its nature. There's so much to see and do.
Enjoy one of the world's most fascinating and ancient cultures. Marvel at the intricate beauty of exquisite Japanese Gardens. Stroll around 1,000 year-old temples, ancient castles and lively shrines.
Live the healthy life. Enjoy the highest quality sushi, seafood and hand-reared Wagyu beef. Breathe the country air on scenic walks. Relax and rejuvenate at traditional Japanese ryokan inns. Soak in the healing natural hot-spring spas.
Give yourself a treat. Raise a glass of one of Kyushu's award-winning sakés. Savor the very finest of Japan's green teas.
Kyushu is a remarkable destination.
A hand-crafted journey here is one you'll never forget.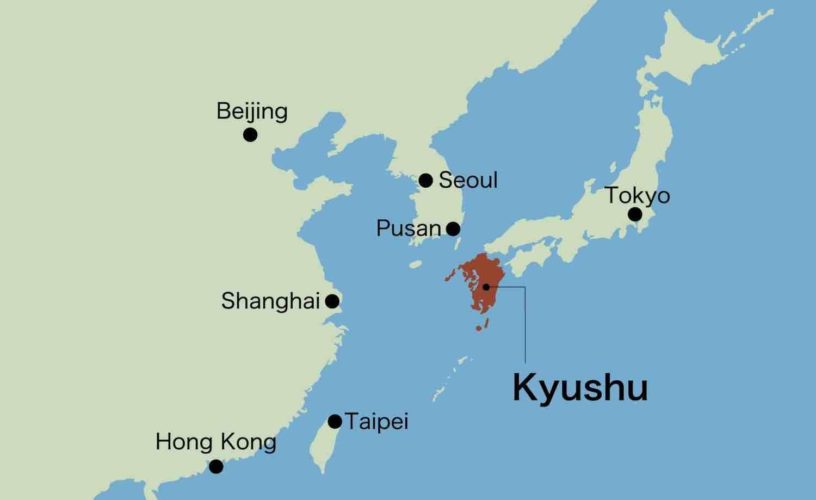 Cherry blossoms
Ancient temples
Medieval castles
Bubbling volcanos
Kimono selfies
Lively shrines
Summer festivals
Traditional dance
Hot-spring bathing
Rural villages
Brewery tours
Nature escapes
Autumn colours
Japanese inns
Countryside hikes
Pottery kilns
Primordial forests
Amazing cuisine
A self-drive trip arranged just for you
We launched our unique self-drive trip planning service because we know how busy you are. Let us do all the work. You just need to sign up and in a few emails your road trip will be ready.
Forget the hassle of comparing hotels. We'll suggest accommodation to suit your budget. Don't worry about finding a rental car service. We've done the research and will get the best rates. Trust our local knowledge to recommend the best places to go and things to do. Discover the best places to eat and drink. Work with us and bust right through the language barrier. Let us solve your navigation headaches.
We put in the hours to plan a customised car tour from start to end. You just need to book your flights and enjoy your trip.
Contact us to get started or read on for more info.

About Us
Owned and managed by a Brit who fled the rain and a Kyushu native who loves her island Kyushu Journeys strives to be a different kind of travel agent.
We want to enable you to find the authentic Japan and avoid the tourist traps.
We aim to operate at all times with honesty and integrity. We won't be driven by industry discounts or commissions. That's why we charge everything at cost price and simply add a clear and transparent planning fee.
Expect the highest levels of customer service, specialist local knowledge and unbiased advice. We'll work with you to plan a personalised itinerary that's just right for you, your budget and your travelling style.
We're trying our best to be not just the usual Japanese travel agent.
FAQ
What kind of car will I rent?
It's up to you. Our car rental partners have models ranging from the small Suzuki Wagon up to 8-seater Toyota Alphard (and everything in between). Rental car prices start from less than ¥10,000 per day.
What kind of driving licence do I need?
You need a valid IDP (International Driving Permit) plus your home country licence. There may be a few minor restrictions (usually not) so contact us for full requirements.
How will I navigate?
After we plan your itinerary we'll include mapcodes of all destinations (hotels, restaurants, sightseeing spots etc). It's super-easy for you to input these into the rental car SatNav.
How long is my tour?
We'll plan a trip just for you so come for as long as your travel plans allow.
Where will my tour start and end?
Fukuoka International airport. You just need to book your flights. We'll take care of all the arrangements within Kyushu.
What if I get stuck?
Drop us a message (WhatsApp, Skype, Messenger) or give us a call. We'll be available throughout your trip.
How much will my tour cost?
This depends on you. We arrange your tour at cost price based on the activities you choose and the standard of accommodation you request. Then we add all those costs together + rental car fee + our planning fee to reach the final price.
How much is the Planning Fee?
For our trip planning service we charge just ¥45,000 (currency convertor here) for a one-week trip for up to 5 pax. It's an excellent deal because you just pay the fee once even if you are a couple, a family, or a group of friends. For longer trips or larger groups contact us for your quotation.
All your accommodation, car rental fees and activities will be charged at cost price. You'll find that even after paying this planning fee you'll get a better value trip than you would with other travel agents because we don't mark everything up like they do.
Do I need a visa to enter Japan?
Probably not. Most people get visa-free entry to Japan. Contact Us to check.
Can I visit other parts of Japan too?
Yes you can. Kyushu is well-connected by plane and fast train.
What's the next step?
Fill in the form below with your travel plans or questions. There's no charge for initial enquiries. We'll reply with everything you need to know to start your Kyushu journey.
Without your suggestions and planning, we would have just visited the big towns and missed the smaller destinations. You guys are great and provide excellent advice on travel in Kyushu. Keep up the great work you are doing!
Cindy & Nicholas Lowe
Self-drive adventurers
May 2018
Your Journey Starts Here
Let us know as much or as little about your travelling plans as you know yourself. Feel free to ask any questions. We'll get right back with the next step.