There is no better time to visit Japan than when cherry blossoms bloom. Skip the big cities and enjoy this gift of nature on the scenic and peaceful island of Kyushu.
Take the headache out of planning with our unique and inexpensive trip planning service.
Discover how a relaxing holiday in Kyushu is just a few emails away. Get started right now or read on for details and FAQ.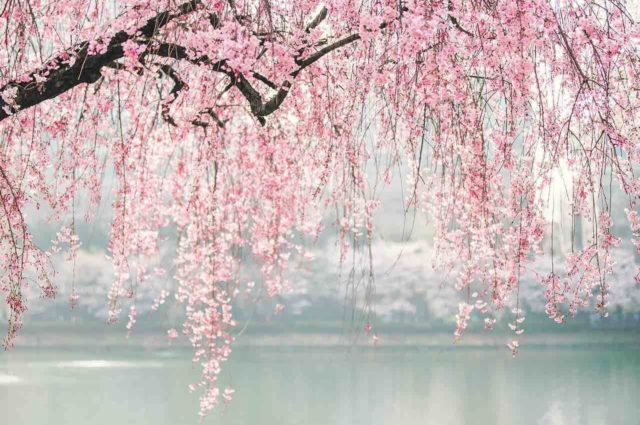 Sakura, sakura
they fall in the dreams
of sleeping beauty
Yosa Buson (与謝 蕪村)
1716 – 1784
Don't follow the throngs of tourists around Tokyo, Osaka and Kyoto.
Enjoy a different kind of Japanese trip
Escape the crowds on the unforgettable island of Kyushu. Get off the tourist trail and experience the real Japan.

About Kyushu
Find the essence of Japan on this vibrant and beautiful island.
One of Japan's four main islands, Kyushu has a pleasant climate and a warm, hospitable people.
Famed for its food, its hot-springs and traditional Japanese inns, you won't have enough days for everything you want to see and do. Enjoy the breathtaking scenery of the countryside and marvel at the intricate beauty of exquisite Japanese Gardens. Stroll around 1,000 year-old temples, ancient castles and lively shrines.
See the sakura bloom in all the best places (only the locals know).
Gorge yourself on sushi, seafood and the famed Wagyu beef. Relax and rejuvenate at traditional Japanese inns (ryokan). Soak in their healing onsen hot-springs. Savour dish and after dish of the freshest and most delicious Japanese fare. Raise a glass of one of Kyushu's award-winning sakés.
Kyushu is a remarkable destination. A hand-crafted journey here is one you'll never forget.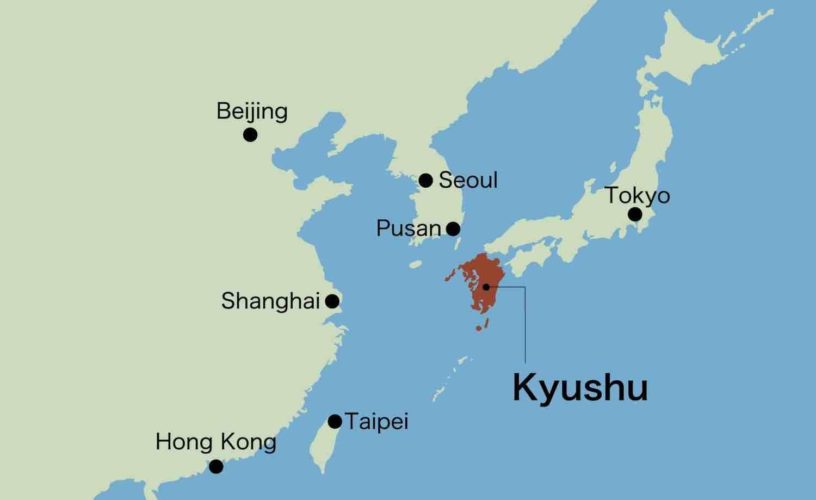 Simon and Mutsumi were attentive and knowledgeable. Despite having been to Japan many times we benefited greatly from their insider experience. Thanks for always being available and giving us advice during our trip too. Thank you!
Karin Potter & family
(Australia) July 2018
Kyushu Activities
Visit ancient temples
Soak in onsen hot spring waters
Have fun with your kids
Stay at traditional ryokan inns
Eat at the famous riverside food stalls
Explore medieval castles
Try the best Kyushu beef
Take a sake brewery tour
Wear a kimono
Browse the latest electronics
Splurge on ramen and hotpot
Explore primordial forests
Roam around ceramic towns
Gorge yourself on seafood
Pick some fruit
Peer into bubbling volcano crater
Ride on a steam train
Dance the night away
Sample multi-course kaiseki cuisine
Shop 'til you drop
Taste Japan's best green tea

A Trip Planning Service that's right for you
Looking for a unique, convenient and inexpensive way to travel? Busy with job, family and friends? Let us do all the work with our trip planning service.
Forget the hassle of comparing hotels. We'll source accommodation to suit your budget. Don't worry about trying to navigate the train schedules. We'll check the timetables and plan your transport for the whole trip. Trust our local knowledge to recommend the best places to go and things to do. Work with us and bust right through the language barrier.
We put in the hours to plan your itinerary from start to end. You just need to book your flights and enjoy your vacation.
Contact us to get started or read on for more info.
About Us
Owned and managed by a Kyushu native who loves her island Kyushu Journeys strives to be a different kind of travel agent.
We want to enable you to find the authentic Japan and avoid the tourist traps.
We aim to operate at all times with honesty and integrity. We won't be driven by industry discounts or commissions. That's why we charge everything at cost price and simply add a clear and transparent planning fee.
Expect the highest levels of customer service, specialist local knowledge and unbiased advice. We'll work with you to plan a personalised itinerary that's just right for you, your budget and your travelling style.
We're trying our best to be not just the usual Japanese travel agent.
FAQ
When do cherry blossoms bloom in Kyushu?
The cherry blossom season in Kyushu is usually the last week of March into the first week of April. However it varies each year. We strongly recommend you contact us before booking your flight. We follow the most up-to-date cherry blossom blooming predictions for this part of Japan. We'll share the latest sakura forecast information for 2019.
Will I see Cherry Blossoms?
By booking with us you'll get the very best chance you can of seeing the cherry blossoms bloom. Your trip will be planned by a Kyushu local and we know all the best sakura viewing spots in Kyushu. However we all know that nothing with nature can be guaranteed.
Will I be on a group tour?
No you won't. You will be traveling with just your family or friends (or perhaps you will come alone).
Will I be with a guide?
No you won't. You don't need a guide because we will do detailed route planning and accommodation arrangements in advance.
What if I have a problem while I'm travelling?
We'll be available throughout your trip by phone or WhatsApp, Skype, or Messenger. We can help in an emergency or if you have a language communication problem.
How long is my tour?
It's your choice. We'll plan a trip based around your travel dates.
Which airport should I arrive?
For a trip to Kyushu you should fly into Fukuoka International airport. Major airlines that fly into Fukuoka include Japan Airlines, ANA, Singapore Airlines, British Airways, Korean Air, Thai Airways and Cathay Pacific. Budget airlines with flights to Fukuoka include Finn Air, China Eastern, China Airlines, Philippine Air and Vietnam Airlines.
How will I get around?
The best thing is you won't be packed into a big tour bus. We plan itineraries around Japan's world-beating rail network. You'll stroll around too and some short journeys will be by taxi or subway. You may prefer to rent a car and self-drive. We can even arrange 50cc scooter or bicycle rental in Kyushu. The choice is yours.
How much will my tour cost?
This depends on you. We'll help you choose activities and accommodation based on your budget. Then we add all those costs together + our planning fee to reach the final price.
How much is the Planning Fee?
For our trip planning service we charge ¥29,900 (currency converter here) for a one-week trip. This fee covers the whole group (it's not per person).
You'll find that even after paying this planning fee you'll get a better deal than with other travel agents. All your accommodation, transport and activities will be charged at cost price. We don't add profit margin to your costs like other travel agents will.
Do I need a visa to enter Japan?
Probably not. Let us know your nationality and we can inform you if you need a visa to enter Japan.
Can I visit other parts of Japan too?
Yes you can. Kyushu is well-connected by plane and fast train.
What's the next step?
Fill in the form below with your travel plans or questions. There's no charge for initial enquiries. We'll reply with everything you need to know to start your Kyushu journey. Don't forget cherry blossom season is the busiest in Japan. Flight and hotel prices will increase the closer you get to your travelling date. It's never too early to send your first enquiry.
Without your suggestions and planning, we would have just visited the big towns and missed the smaller destinations. You guys are great and provide excellent advice on travel in Kyushu. Keep up the great work you are doing!
Cindy & Nicholas Lowe
(Malaysia) May 2018
Your Journey Starts Here
Let us know as much or as little about your travelling plans as you know yourself. Feel free to ask any questions. We'll reply with all the info you need to get started.